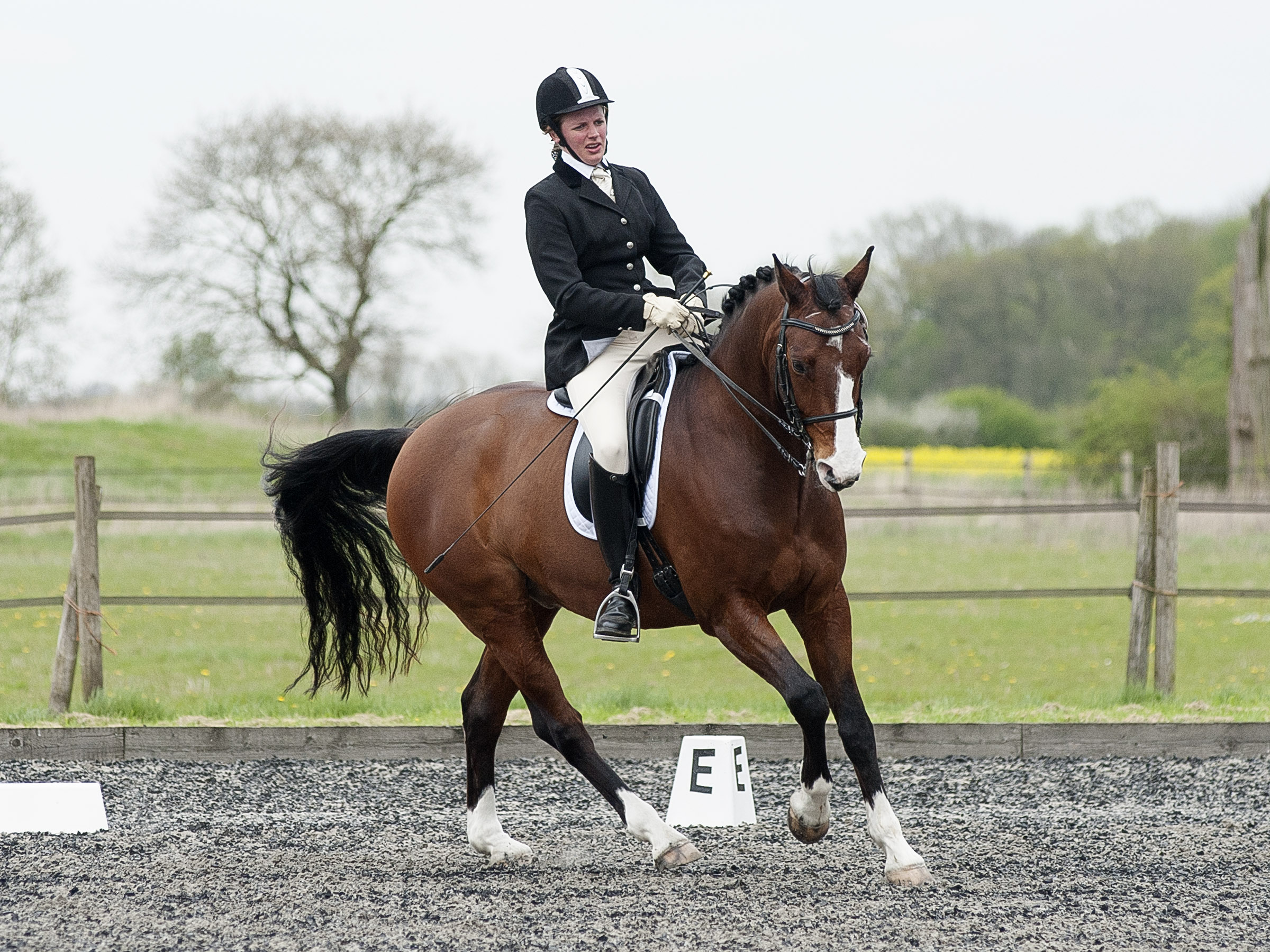 Dressage Anywhere is delighted to announce the winner of the 2014 Rider League! Tea K Witchalls and Mr Lou-Bi-Light (pictured) topped the Rider League with 171 points and have won a signed copy of Carl Hester's book, Making it Happen, plus a Sony Handycam.
After a fifteen year break from competing, Tea came back during 2014 and has been taking part in Dressage Anywhere online competitions upon the recommendation of her instructor. After a break to have a baby, Tea will be back in the saddle during 2015 to progress high, aiming for Medium and Advanced Medium Area Festivals. Tea said 'Dressage Anywhere has helped as you have so many different judges and their comments always give you something to work on and improve before the next test'. On practising ahead of a live event, Tea said 'having the test riding finely tuned and knowing you can do a good test before going out is a brilliant tool and gives you much more confidence once you are out'.
Sharon Cullen and Graf Spey gained 2nd place with 148 points, Caroline Anne Ratcliffe and Al placed 3rd with 110 points and both win a Dressage Anywhere saddle cloth. Stock pins and rosettes are awarded to the top ten placed riders.
We've got a very exciting prize for the 2015 Rider League to be announced shortly! The league runs from January to December 2015.
The top 30 placings are available here.
Rider League 2014 top 10
Place
Rider
Horse
Country
Points

1st

Tea K. Witchalls

Mr. Lou-Bi-Light

UK

171

2nd

Sharon Cullen

Graf Spey

France

148

3rd

Caroline Anne Ratcliffe

Al

UK

110

4th

Katie Spitzmaul

Lord Roflow

UK

99

5th

Katy Isidoro

Fabi

Spain

80

6th

Lindsey Harrap

Mouchez

UK

73

7th

Natalie Sykes

Bahri Beat

UK

64

8th

Debbie Hillary

Kaiser

UK

55

9th

Hayley Burson

Bywell Beau

UK

50

10th

Amanda Brewer

Vitorioso

UAE

49