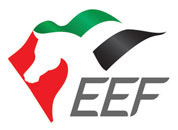 UAE 2015 Online Dressage Championships
Hosted by Dressage Anywhere
Entries are now open and will close on 30 May 2015.
Open to all riders of all levels resident in the UAE - no need to be EEF affiliated. Choose a competition test from the Dressage Anywhere May schedule - walk and trot to Prix St Georges.
All entries are eligible for our regular scheduled prizes and rosettes plus the highest placed UAE riders at each level will become the UAE Online Dressage Champions and will recieve Emirates Equestrian Federation trophies and prizes kindly presented by Equestrian Solutions.
If you need any assistance with filming or uploading your tests, get in touch for more details of help available in the UAE.