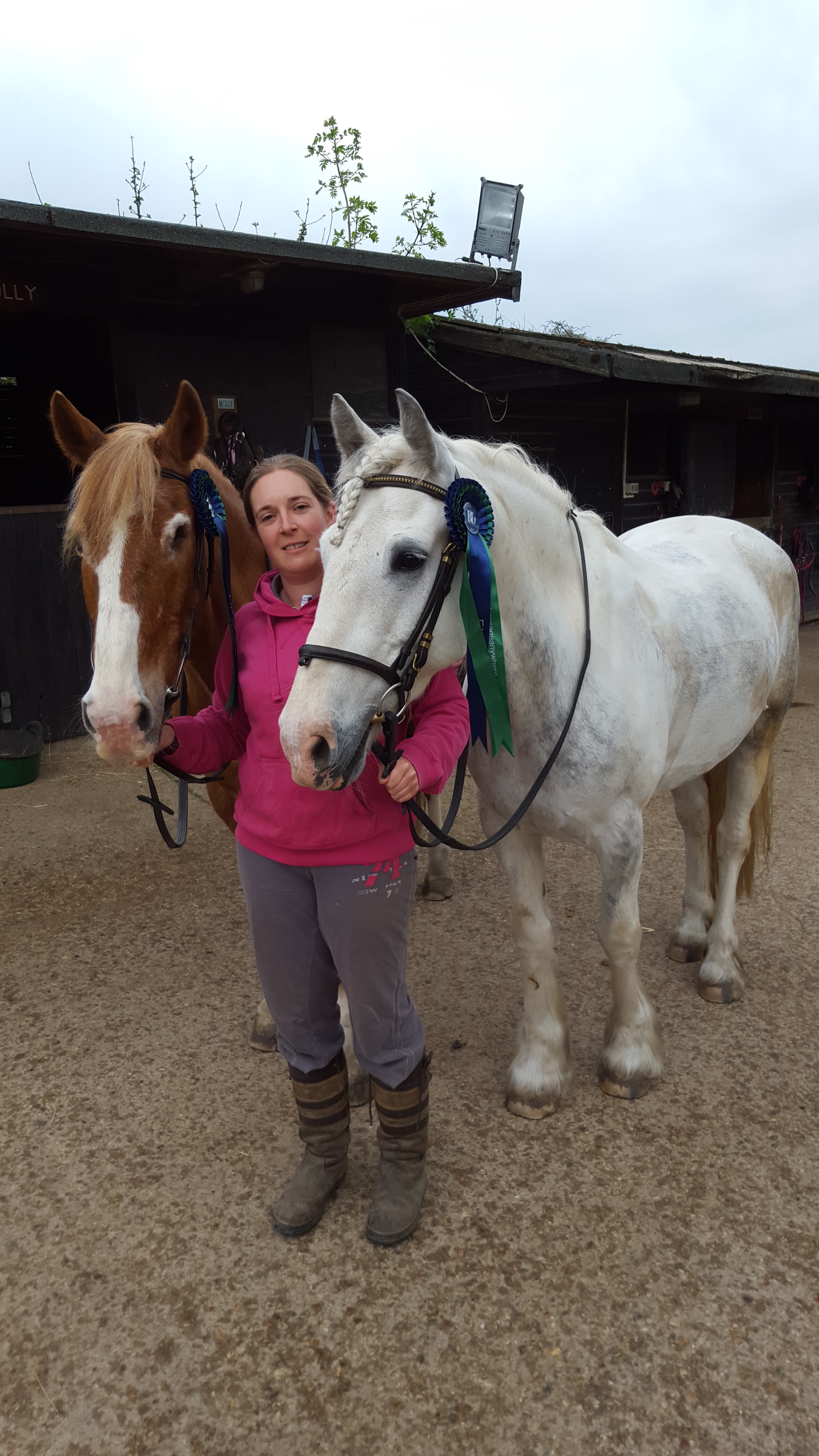 We caught up with one of our 2015 BD Online Champions, Nicola Machin to find out what she's been up to with her horses since last year.
It's been an interesting time since the 2015 BD Online Championships. My older boy Coco ended up having six months off work due to an allergy and the last time I rode him before he became really ill was to film his Novice and Elementary tests for the Championship, so I was really pleased to have these on film. He placed 3rd in the Novice and won the Elementary. I was delighted with his results as since losing his eye he doesn't travel well and as he really enjoys showing off the chance for him to compete at home with Dressage Anywhere is perfect for us.
I've finally managed to get back on-board and have ridden him twice recently. As he's not getting any younger we'll start off slowly, but I'm hoping to have him up and running for a Prelim test for our team in June and then working back up towards Novice within a few months.
My younger horse Blueberry Jack (Blubber to his friends) managed to come a very respectable 5th in the Prelim Championship class, which was a big surprise as he doesn't share his stablemate's love of showing off, is not as flashy and isn't the most reliable of performers! Unfortunately for him, as my placing with Coco won us a years membership to British Dressage, it's meant that he's had to up his game a bit and we've been going to a BD affiliated competition every month. He did extraordinarily well on his first BD outing, winning his section of the Prelim class, but since then we've been plagued by terrifying pots of fake flowers and jumps stored by the side of the arenas, causing him to be a little distracted! He didn't do much work over the winter as I was spending so much time pandering to Coco's every need while he was unwell, but over the past two months Blubber and I have been working hard and he's slowly improving at lateral work and medium trot, so we're hoping to be working to Novice level at home by winter!
Dressage Anywhere has been really great for me, it's inspired me to keep plugging away and given me a chance to still enjoy working and competing Coco without needing to travel him. I'm also part of a small team and we were very pleased by our final placing last year and Dressage Anywhere gave us the chance to urge each other on and improve across the board. This year the team has been plagued by lameness (horses and riders) and I've not been able to give my all to it yet, but we're hopeful that the summer will get us going and we'll get a few points by the end of the year!
The qualifying classes for The Dressage Deluxe BD Online Championships have opened. Between now and 30 September achieve two scores of 62% or above to qualify for November's Championship Show.