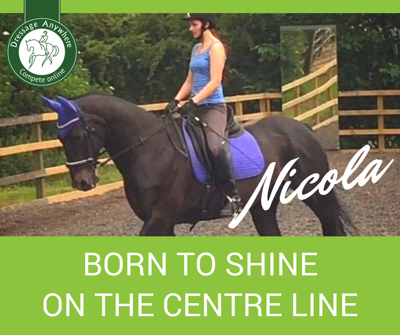 In the next part of our series, Born to Shine on the Centre Line, we meet Nicola Cranham from Derbyshire.
How long have you been riding?
I've been riding for 18 years.
Tell us more about your horse
Knabbhall Moon Dancer (Dan) is a real character! Before he was mine, he was never really hacked out much and as a spooky warmblood, I had a lot of 'interesting' hacks while I was trying to teach him. For some reason he hates purple flowers, and one day we got very stuck in a drive because he wouldn't go past some! I ended up sitting there for ages waiting for him to decide moving forwards would be more fun. A minibus, cyclist and a car driver all stopped to ask if I was alright... he loves embarrassing me! Now he hacks like a pro and even acts as a nanny :) I'm very proud of him!
What do you hope to achieve in 2017?
To enjoy competing Dan as long as I can, and consolidate ourselves at Elementary. We hope to qualify for a Dressage Anywhere championship!
What's your biggest challenge?
Dan's health - last year we weren't sure if he'd be ridden again due to hindleg injury. He's also now 20 and although in good health I especially have to be very careful with how I maintain him!
What's your biggest achievement to date?
Probably having a write up in Horse and Hound after scoring a personal best of 74% in an affiliated novice! We were also Beaver Hall affiliated novice champions.
How did you first hear about competing with Dressage Anywhere?
Twitter!
What's your favourite thing about competing with Dressage Anywhere?
It's so well organised - I don't have transport and won't do for the foreseeable future (financial reasons, as ever with horses!) so it's great to get feedback from qualified judges so efficiently. It also allows people like me to compete despite having no form of transport.
If you've placed in one of our competitions and would like to share your story, get in touch at info@dressageanywhere.com.