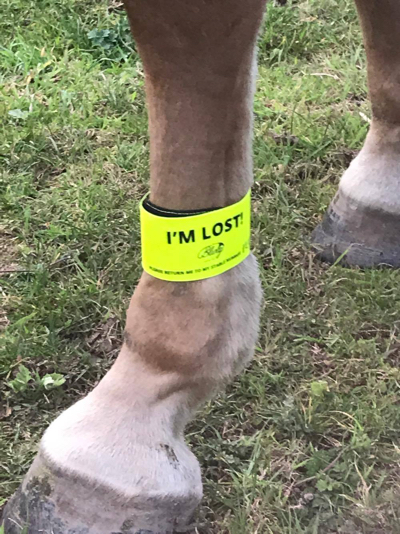 The I'M LOST band is the new ingenious idea of Bling in the Show Ring owner and Dresage Anywhere class sponsor, Jen Atkinson.
'The idea was based on a recent event at a show where a horse escaped from his stable late at night. As there were hundreds of stables we didn't know which one he belonged to nor had any clue as to who his owner was. Luckily the horse was uninjured, however if he had been we would have been unable to contact his owner.
'A lot of thought and tests have gone into this concept to come up with this idea. The aim of having the single band on the leg is to look odd so that it's more of a symbol that something isn't quite right rather than having a full set on. The material is waterproof and is made with Velcro and is designed to sit close to the leg (not tight of course). This is made with the same reflective material used on emergency services uniform. So should your horse escape at night will have a better chance of being seen.'
The I'M LOST bands are 13" long, but different sizes can be provided if required to go over bandages.
The stable band comes with a laminated sheet for your details to put on your stable door and is priced at £9.99. A version for horses in a paddock has a space for horse box registration number and mobile number and is priced at £7.99. Go to the Bling in the Show Ring website to find out more.