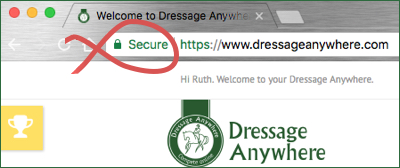 At Dressage Anywhere we've always taken security of your data seriously, we've now taken that one step further.
Next time you visit Dressage Anywhere you'll notice a padlock in the URL - this means that all data that passes between our server and your web browser is secure and that you are actually on our website, not an fake site looking to steal your personal information.
Your onlne identity is valuable to you and to those who seek to steal it so we've taken the step to make sure your data is secure when it's sent to and from our site. We'd suggest you make sure you always use secure sites when using the internet, not just Dressage Anywhere. It's your only way to be sure you are connected to the right site. We have made this latest change to avoid your browser telling you that Dressage Anywhere is somehow insecure, rest assured we are doing lots of work in the background to make sure we keep your data secure including regularly monitoring all the software used in getting Dressage Anywhere to you, making sure that it's also secure. We'd like to think we've always been secure but now you can see it everytime you visit.