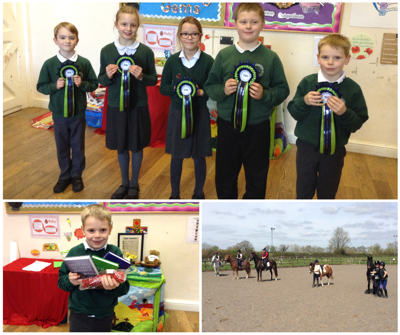 From the outside, Broad Town CE Primary School looks like any other ordinary school. But it has a secret. It has a fantastic riding team run by Gretchen Dent!
The netball court is marked out as a dressage arena and the children enter competitions with Dressage Anywhere every month. So where are their ponies and enormous budget? Well, they don't have any but they do have a very understanding local riding school called Ashdown Equestrian, parents who will stand out in all weathers, generous local businesses and a teacher at the school who really believes in 'the power of ponies'.
In the holidays, the children bring ponies from the riding school to a local livery yard and have rallies run by their teacher from school. Without the generosity of Pauline Waite, who provides all of the facilities free of charge, this could not happen. The school provide rosettes for the children on a % score basis each month in the summer and this winter have been running a league table to find a winter dressage champion. The school were so proud to come 7th in the Dressage Anywhere Team Challenge 2017 that they bought special rosettes for the children.
Having the team has inspired many children to start riding who may not have thought of it before, and that can only be a good thing. The team consists of 4-11 year olds, but most are under 7 and hopefully they will keep an interest in horses and outdoor sports for life.
Pictured are some the members of the Broad Town School Team and Joshua, who won a series of Forelock Books in our December competition!