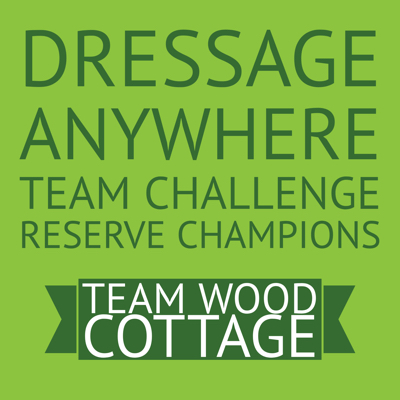 Find out more about our Team Challenge Reserve Champions!
Team Wood Cottage are based in the leafy Essex village of Hockley and Hawkwell. All team members are pupils of the yard owners, Collette and Peter, whose combined enthusiasm never relents! Everyone enjoys competing and dressage has never been so much fun thanks to Dressage Anywhere!
The team has two Junior members: 14 year old Jodie rides her own pony Kira, a beautiful Cob x Yorkshire Dale. She has regular help from Collette to get her test into shape and says 'I like doing Dressage Anywhere because it gives me a new goal every month and gives me a sense of achievement.'
16 year old Jessica rides one of the livery horses Bert Bailey. Bert is 27 years young, a handsome black and white Cob. They compete at Intro and are very much looking forward to Prelim and one day having her very own pony.
Chloe rides a lovely Thoroughbred/Warmblood and ex showjumper Tilly. She is 28 years (young) now, and Chloe says that 'riding Tilly regularly in Dressage Anywhere competitions has really taught me so much and has improved my riding skills.'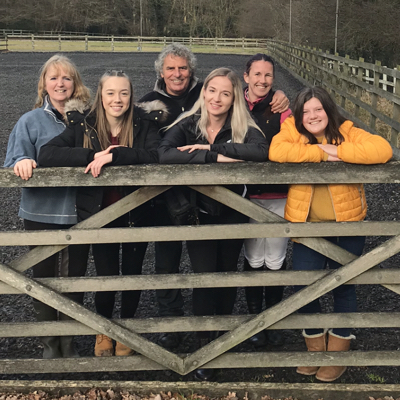 Katie is the team captain (it was her idea to form a team). She rides her very handsome ex racehorse Spider and has quickly upgraded from Intro to Prelim with great percentages in both. Katie says 'my goal this season is to perform at Novice and to continue my improvement.'
Collette, who has a deep passion for dressage rides Patrick who is a handsome Irish Sports Horse at Intro level and also her own Latvian Warmblood Max at Elementary and is always on hand to help all other team members.
Team Wood Cottage would like to thank all sponsors of Dressage Anywhere and their collective goal for this year is to hope to go one better and win the team challenge (no pressure!).
2018 Team Challenge
All you need to take part in this year's Team Challenge is a group of three or more riders and a team account (which you can create on the registration page). Choose one of your team members to manage the account, maybe a trainer or livery yard owner and you can either add other Dressage Anywhere members (great for virtual teams) to your team account or manage non-members through the Team Entries page. The great thing is that every time a team member enters one of our monthly competition classes, they can choose to register their entry as a team entry, so they will be judged as an individual and their placing will count towards the team score. Basically, there's no need to enter as an indivual AND a team member - one entry fee covers it all!
The same team members don't have to compete every month and our scoring isn't cumulative, so a team that joins later in the year has just as good a chance of winning the Team Challenge as a team who joined in January. We've got a very exciting prize for the 2018 Team Challenge winners, which we're looking forward to announcing imminently!
More information about forming a team, rules and scoring is here on our help page.