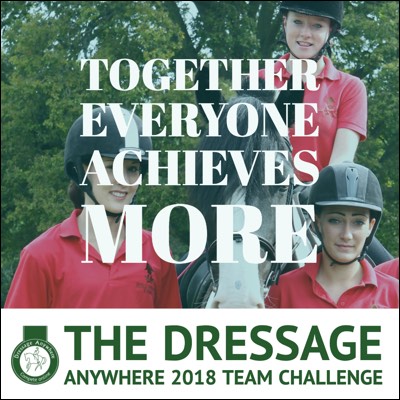 The 2018 Dressage Anywhere Team Challenge is underway! So why not get other riders at your yard together to take part? Or maybe you're a coach or instructor and are looking for something fun and rewarding for your clients to get involved in?
All you need to do is get a group of three or more riders together to take part in our monthly online dressage competitions. Create a team account on the register page (get in touch if you already have an account - we can convert your existing individual account to a team account for you).
How the challenge works
The Team Challenge runs from January to December and riders, registered as team members entering our regular monthly competition classes will be eligible. So there's no need to ride an extra test - your individual entry will still be eligible for prizes and rosettes in that class, plus your result will count towards the team score.
How is the team score calculated?
The top three scores in a month will form the team score. The points don't accumulate every month, the team score is based on the best score in any one month. So a team entering in December has just as good a chance of topping the table as a team who entered in January. Have a look at our points table to find out more about how the team score is calculated.
Do all team members have to compete every month?
The number and faces of team members taking part can change every month, but you must have a minimum of any three team members competing in order to gain a team score.
Do all team members need to be registered with Dressage Anywhere?
You can add existing Dressage Anywhere members to your team account or manage the entries on behalf of other riders who aren't registered with Dressage Anywhere.
Prizes
Standby for an announcement about this year's sponsor and prizes coming very soon! Keep your eye on the Team Challenge Scoreboard to see how our teams are getting on.
If you need help in setting up your team, have a look at our help page or contact us and we'll be more than happy to help.