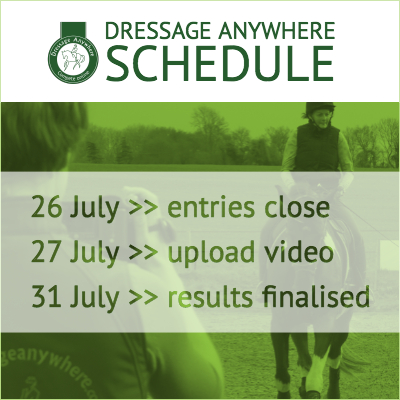 We've made some changes to the entries close date of our competition and training classes with immediate effect.
From July onwards all classes will be open for entries until 23.59 on the 26th day of each month. That means that you must enter and pay for your entry by this date. All riders then have 24 hours to upload their dressage test videos, which must be received by 23.59 on the 27th of the month. Our judges will then aim to complete judging each class and finalise results by the last day of each month.
The end of the Dressage Anywhere month has become more challenging to manage as our entry numbers increase, but particularly as so many are received on the last day of the month. Making these changes means that we can be clearer about when results will be finalised and we'll be able to better support anyone having trouble getting their video to us. It will also ease the pressure on our judges who do a sterling job to judge so many tests in such a short space of time.
If you enter early in the month and upload your video, we'll still aim to judge your test as close as possible to 48 hours.
Get in touch if you have any questions at all.