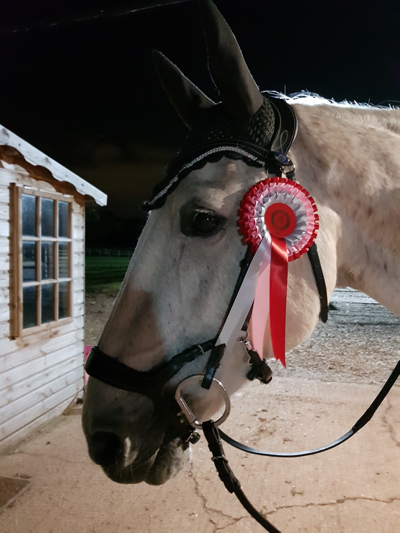 Our Born to Shine on the Centre Line feature is back! And this week we meet Kelly and Lily, a 17 year old grey Irish Sport Horse who won September's Veteran Horse Intro class.
When and why did you start riding?
I started riding at the age of 12 after attending a friend's pony party. I was hooked! I started helping out at a local stables, mucking out, grooming and tack cleaning in exchange for rides. Since then I have never looked back; horses have always proved to be the most loyal of companions and the experience of being in true harmony with your horse is unrivalled!
Tell us an interesting fact about yourself!
I am an avid collector and reader of Agatha Christie novels. There is nothing better after a cold afternoon at the yard than a hot bath and a book!
Where did you find your horse and how long have you been a partnership?
I have owned Lily for four years. She was based at Robert Gilsenan's eventing yard when I met her, on sales livery as her owners were relocating to Dubai. At that point she was enjoying her jumping and hunter trials (although had a habit of picking up penalties for going too fast!). Rob had trained me for a number of years and when he introduced me to Lily I knew that we would be a great team. I had recently lost my young thoroughbred to grass sickness and riding Lily helped mend my broken heart. We spent a few months hacking out and schooling before Lily's owners agreed to sell her to me. They still keep in touch and come and visit which is lovely!
Have you got any interesting stories or anecdotes about your horse?
After 6 months of box rest I was dreading turning Lily out in her little recuperation paddock. However, she plodded down to the field and hardly moved for the two hours she was allowed out. Phew! The day after however she must have been bored because she jumped out and made her way to her friends who were grazing in a different part of the yard. Luckily, no harm was done... but we built a much taller fence for the following day!
What level do you compete at?
I am currently competing at Intro and Prelim. I really hope to progress in dressage over the coming years.
What do you want to achieve in 2018?
For 2018 I want to continue to work on building Lily's strength and suppleness. Achieving a 70% would be amazing too!
What's your biggest challenge?
Together we have had a number of challenges! Lily was diagnosed with DDFT tears in both of her front feet three years ago and was given only a 17% chance of ever returning to ridden work. She had surgery and with the help of an amazing physio, trainers and a new barefoot approach I was finally able to get back on board nine months later. It hasn't been smooth sailing since then either with a few other scrapes and bumps! Lily was also diagnosed with laminitis and PPID 12 months ago. Keeping her healthy and supple is my biggest challenge. She loves her work and has a very active brain so balancing rehabilitation with stimulating work is a challenge. I have become a massive fan of polework!
What's your biggest achievement to date?
Getting back to competing with Lily and popping her over a few fences, something that we both never thought would happen again after her surgery!
How long have you been a dressage rider?
I have always loved flatwork schooling but dressage is fairly new to me and I have only been competing in dressage for a few months.
How did you first hear about competing with Dressage Anywhere?
I came across Dressage Anywhere on social media when Lily was still rehabilitating through groundwork and immediately thought that it would be the perfect thing to aim for once I was back in the saddle!
What's your favourite thing about competing with Dressage Anywhere?
Dressage Anywhere gives me access to high quality judging and is so convenient, particularly when I currently do not have my own transport and work full time. The feedback from the judges is always so motivational and gives you lots to work on. Last month's comments from Debby Lush were incredibly rewarding. She said Lily demonstrated "super suppleness" and that is something I had worked so hard on with my trainer and physio!
How long have you been competing with us?
I have only been competing since August but have loved being a part of it!
If you'd like to tell us your story and share with other riders, fill out this form and send a photo of your horse to info@dressageanywhere.com.