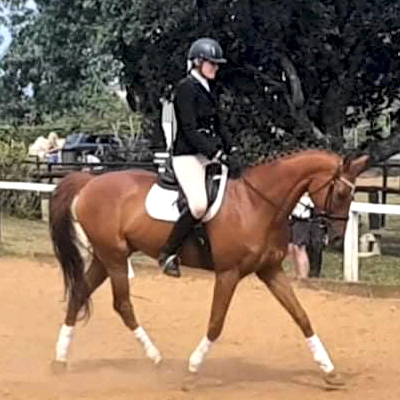 Next in our Champion Born to Shine on the Centre Line series is Kirsty Klopper from South Africa. Kirsty and Salsa Chilli placed 4th in the British Dressage Online Associated Championships at Prelim Restricted level.
When and why did you start riding?
I started riding when I was 13 years old at our local riding school that I now run. I started because I needed a sport that would help my back muscles as I had started a slight curvature in my spine and I absolutely adored horses. So it was a no brainer! Doctors orders!
Tell us an interesting fact about yourself!
I am over 6ft tall!
Tell us a bit more about your horse
SalsaChilli is a 15 year old thoroughbred chestnut gelding.
I leased Salsa about 7 years ago and competed with him in low grade show jumping. He was then sold onto a junior rider who had him for 6 years. I bought him last March, a dream come true!
Salsa feels everythung with is feet so we cannot have any tape or rope or haynets in the paddock because he always gets his feet stuck! He also loves to pull faces and likes to stick his tongue out at you! He can beg for treats by tilting his head asking 'please'!
What do you want to achieve in 2019?
To move up to Novice level. Salsa suffers from kissing spine and low grade hock arthritis so his training programme cant be too vigorous. I need to balance out my riding days and training programme in line with how his body responds to the training.
What's your biggest achievement to date?
Winning a Prelim class in Dressage Anywhere against 50 other horses.
How did you first hear about competing with Dressage Anywhere?
A friend from the UK told me about the online shows and it intrigued me so I did some research and the rest is history.
What's your favourite thing about competing with Dressage Anywhere?
My favourite thing is that we can ride at home in a relaxed environment and be judged by experienced knowledgable judges and ride against international riders.