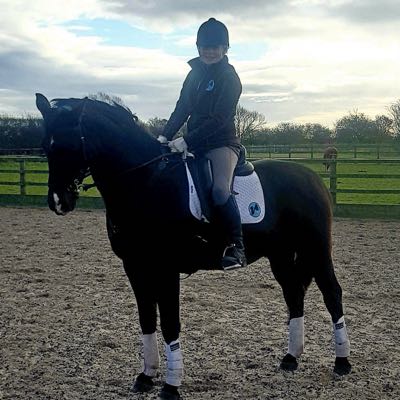 Our Champion Born to Shine on the Centre Line series continues with Charlotte Irwin and her horse Winster from Doncaster. Charlotte placed 5th in the Introductory Restricted class of the British Dressage Online Associated Championships 2018.
When and why did you start riding?
I was brought up in a showjumping family and started riding at three years old on a three year old Shetland. I enjoying breaking and schooling ponies then horses as I got older. When I was 14 years old, I was given the opportunity of having a lesson riding a Prix St. Georges dressage horse from the late great Peter Roberts FBHS at Warwickshire Equestrian Centre and fell in love with the sport. I spent the next few years teaching in riding schools. Fast forward to Christmas 2016 and my amazing partner bought me my dream horse, so I can try to achieve my dressage goals. I am now a registered para rider due to arthritis in my joints and looking forward to the new Dressage Anywhere competitions for Para riders. I know I am probably vastly over horsed, however I am enjoying the journey and appreciate life even more having had major breast cancer treatment 4 years ago.
Tell us an interesting fact about yourself!
My brother sells houses on TV! Will let you guys work that one out!
Tell us a bit more about your horse
Winster (Wez) is a 15 year old Hanoverian dark bay. He was advertised on preloved and we have been a partnership for nearly two years now. His previous owner had had a bereavement so put him at a friends yard to sell for her.
Have you got any interesting stories or anecdotes about your horse?
Wez has major attachment issues and cannot allow his stable mate to go out of her stable before him. His party trick is doing tongue gymnastics at meal times!
What do you want to achieve in 2018?
Prelim and Para Grade 4.
What's your biggest challenge?
Learning to sit to his huge canter stride!
What's your biggest achievement to date?
Getting placed in these championships after losing my confidence last year.
How did you first hear about competing with Dressage Anywhere?
My previous trainer Jane Attack from Transitions Dressage Coaching.
What's your favourite thing about competing with Dressage Anywhere?
I don't have my own transport, so it is a more convenient and affordable way to compete in dressage. The judges are of a high standard and very encouraging in their feedback.