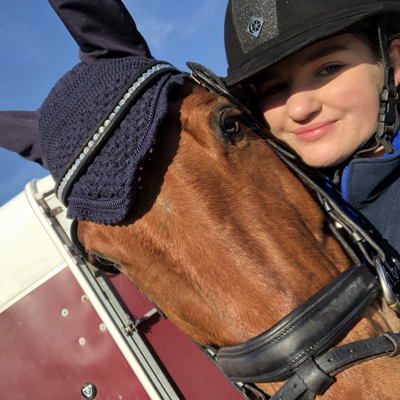 Lily and Tango from Essex stepped up from Juniors to Seniors this year with great success placing in five competitions so far! We caught up with Lily to find out more.
How did you get into horses? And what age were you?
I began riding aged six and loaned a pony for a little while and then bought Tango (my own horse) when I was 14. My mum owned a horse, who sadly passed away shortly after I was born, and seeing all the photos and rosettes she had collected over the years made we want to experience it all as well.
Tell us an interesting fact about yourself!
I am type 1 diabetic and ride with an insulin pump! I find riding and horse ownership in general helps manage my diabetes.
Tell us a bit more about your horse
Time 2 Tango (Tango) is a chestnut thoroughbred cross ages 19. I found Tango nearly three years ago when searching for my first horse. My dad did not want us to buy a horse so my mum and I snuck off to view him while my dad was away on business and the rest is history!
Have you got any interesting or funny stories about your horse?
Tango loves to have a sleep before we ride. Without failure, he has a snooze every time I get his tack out, sometimes even trying to lay down! The vet even wanted to test him for narcolepsy at one point!
How do you prepare for a dressage test? Any top tips?
I imagine my instructor's voice in my head telling me what I need to do!
What horsey product or item could you not live without and why?
Any sort of protection: fleece lined items, fly spray, nose net, cotton wool etc. He's a typical thoroughbred who's sensitive to everything, we call him a sensitive soul!
What do you want to achieve in 2019?
Progress in Prelims and maybe try a Novice if I'm brave enough! I've had so much fun with Tango over the last three years and I want to have just as much fun this year!
What's your biggest challenge?
Believing in ourselves! We both lack confidence and I know we are both capable of so much more, I just need to be brave enough to reach it.
What's your biggest achievement to date?
Finishing 6th in the Dressage Anywhere Rider League last year. I was competing as part of the juniors last year and was over the moon to finish so high up!
How did you first hear about Dressage Anywhere?
The liveries at my instructor's yard put together a team to compete in the Team Challenge on Dressage Anywhere, and when I moved Tango to my instructor's yard I was invited to join this team.
What's your favourite thing about Dressage Anywhere?
It's so relaxed and the feedback from the judges is always fantastic and encouraging.
What would you say to someone just getting started in dressage?
Don't give up! You're going to have knock backs and points where you feel as if you aren't progressing but in the long run, it all works out.