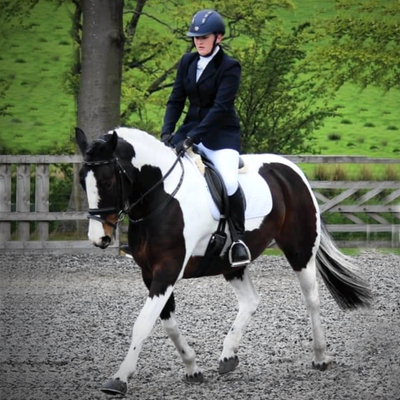 Rachael Murray based in the UK and member of Qatar Fryslan Dressage, is regularly in the placings at Prelim and Novice levels. We caught up to find out more about her and Mabel.
How did you get into horses? And what age were you?
I got into horses aged seven.
Tell us an interesting fact about yourself!
I have a BSc (Hons) in Equine Science which I don't use for work.
Tell us a bit more about your horse
Mabel is an 11 year old skewbald warmblood cross traditional cob.
Where did you find each other and how long have you been a partnership?
After losing my cob, I saw an advert online eight years ago.
Have you got any interesting or funny stories about your horse?
She tried to kill me as a four year old when I got her fit for the first time. It took a lot to not sell her on. I stuck to it and schooled her myself and I'm still alive (and so is she)!
How do you prepare for a dressage test? Any top tips?
Practice all the time where possible. We have lots of team chats and egging each other on, I love the team spirit. The team members are what get me motivated each month!
What horsey product or item could you not live without and why?
Supreme Products Sparkle.
What are you goals for the future? What do you want to achieve in 2019?
To score more than 70% in a Novice test and to successfully ride a test in the white boards at the championships!
What's your biggest challenge?
My spooky mare.
What's your biggest achievement to date?
We scored 77.11% in a Prelim test, which we didn't expect!
How did you first hear about Dressage Anywhere?
From my lovely Qatar friends.
What's your favourite thing about Dressage Anywhere?
The fact I don't have to stress my spooky horse out going to an event every month.
What would you say to someone just getting started in dressage?
Read the comments and work on the judge's feedback, it makes all the difference.