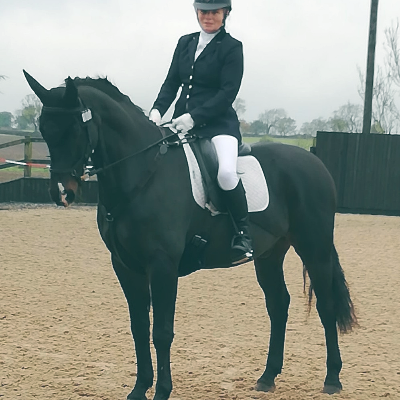 Next in our Born to Shine on the Centre Line feature is Charlotte Irwin from North Nottinghamshire. Charlotte placed 2nd in the British Dressage Online Championship Introductory Restricted class.
How did you get into horses?
I was brought up on a showjumping yard, but I prefer to keep my feet on the ground these days. I am a registered Para Grade 4 rider and am hoping to have ago at my first online test next year, when I have mastered Wez's huge canter!
Tell us an interesting fact about yourself!
I am a mental health counsellor for the NHS and I also offer equine assisted psychotherapy through private practice.
Tell us a bit more about your horse
Winster or Wez will be 17 this year; he's a dark bay Hanoverian.
Where did you find each other and how long have you been a partnership?
He was a Christmas present three years ago from my fiance, advertised on preloved.
Have you got any funny stories about Wez?
His tongue gymnastics - at tea time he puts Jar Jar Binks to shame! When he concentrates his tongue sticks out to the front when he is ridden. He suffers extreme anxiety if he is left in his stable and if his girlfriend goes our first. He will stop chewing his hay to listen and check he can hear her next door! It took six months for him to adjust to her living in the stable to the right instead of the left! He loves his small livery yard Mayflower Stables at Scrooby and gets to watch John Balding's racehorses on the gallops training from his field. Wez also moonlights as a therapy horse with some of my clients from the problemshop.com counselling services. He is friendly kind and always non judgemental.
What level do you compete at?
I currently compete at Introductory.
How do you prepare for a dressage test? Any top tips you'd like to share?
I have a fabulous encouraging trainer Emma Tytheleigh who has supported my confidence, as I nearly sold him a couple of winters ago. My partner regularly videos me so I can see what I need to do better.
What do you want to achieve in 2020?
Work at my confidence in canter work and enter a Para competition.
What's your biggest challenge?
Wez's big canter!
What's your biggest achievement to date?
Taking him out to a show with other people in the warm up arena! People think he is a youngster as he spooks a lot! And on seeing and hearing a big Fresian canter in an indoor warm up Wez thought it was Satan's Chariot to take him away and he had a complete melt down, which did not help my confidence either! Lol!
How did you first hear about competing with Dressage Anywhere?
About two years ago from Jane Attack of Transitions Dressage.
What's your favourite thing about competing with Dressage Anywhere?
The judges are both experienced, professional and very encouraging, and I don't have transport of my own. It gives me monthly goals to work and focus on.
What would you say to someone just getting started in dressage?
It is great fun, competing with yourself with your own scores as markers, treat your score sheets as homework and goals :)
Quick fire round
Geldings or mares...
Geldings
Tea or coffee...
Tea
Hacking or schooling...
Schooling
Spring, Summer, Autumn or Winter...
Summer
Bays, greys or chestnuts...
Bays
Wellies or heels...
Wellies
Crisps or chocolate...
Chocolate