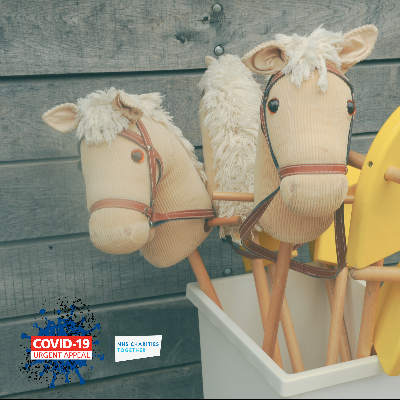 It seems quite mad really, to turn our hand to an online Hobby Horse Dressage Competition! But we wanted to do something to keep us busy and also use what we have and what we know to raise funds for a national campaign.
We've enjoyed watching all of the entries - it's been great to see so many riders from every walk of life embracing the spirit of the competition and having some fun!
We committed to send £8 from every entry to NHS Charities Together and the COVID-19 Urgent Appeal. This is the NHS Charities umbrella organisation and it provides support and grants to official NHS charities which provide extra vital funds and services to NHS hospitals.
This specific appeal was launched by NHS Charities Together to provide support to those impacted by COVID-19 and money raised funds grants to help NHS charities support staff, volunteers and patients. We've heard about wellbeing packs and rooms for front line staff and tablets for patients to keep in touch with their families. These are all things that have been made possible through the generosity of the public and organisations.
There's still time to get your Hobby Horse Online Dressage entry in! Entries and video submissions close at 23.59 BST on Sunday 10 May. For inspiration (and a good laugh) have a look at all the entries so far on the scoreboard!