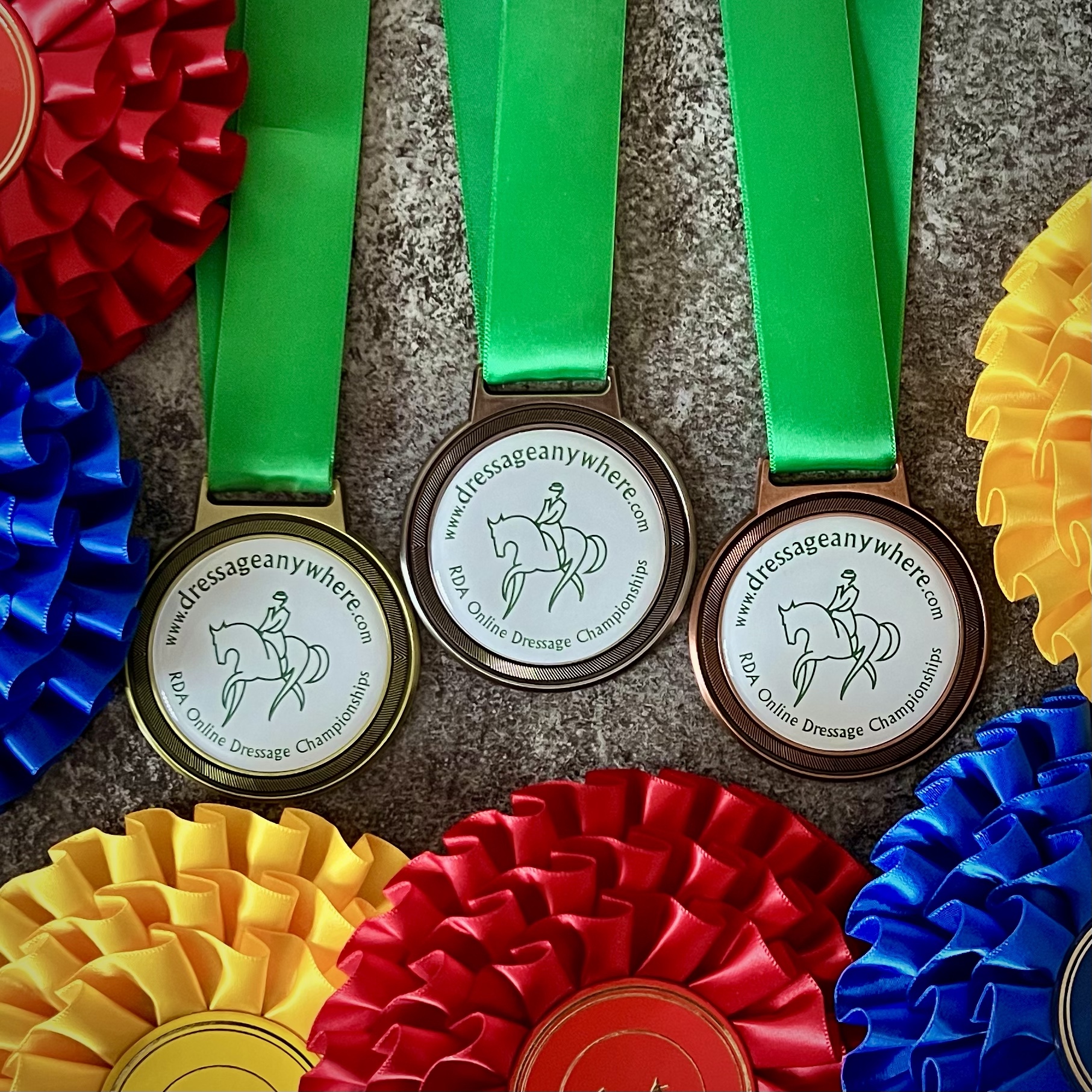 Our 8th RDA Online Dressage Championships ran during May and we're delighted to announce the winners!
Riders from 24 RDA groups, including RDA Hong Kong, took part in a fantastic Online Dressage Show. Some riders qualified as far back as 2019, when the planned Online Championship had to be postponed in 2020 due to the pandemic. Qualifying started again in earnest during last 2021 and we were delighted to host this popular Online Championship once again.
Congratulations to all the riders and groups who took part. We can't wait to see you again at the RDA Nationals at Hartpury in July.
Medal Ceremony
As with previous Online Championships, we'll be attending a special medal ceremony to award rosettes and medals to our 1st, 2nd and 3rd placed riders. If you're there, stop by our stand in the main tent and say hi!
2023 Online Championships
Monthly online RDA classes have restarted and qualifying is open again for 2023. All you need to do is achieve a score of 60% or above to qualify for the next RDA Online Dressage Championships. Check out the schedule now!
2022 Champions
Full results on the scoreboard.
Led Dressage (Walk Only)
🥇 1st Joseph & Maverick, Wenlo RDA 70.71%
🥈 2nd Osian & WSH Something Borrowed, Ynys Mon RDA Anglesey Group 68.33%
🥉 3rd Chloe & Rocki, Barrow Farm RDA 66.67%
ID Walk and Trot
🥇 1st Erin & Rocky, Wenlo RDA 73.75%
🥈 2st Ryan Le Monnier & Flynn, RDA Jersey Channel Islands 72.75%
🥉 3rd Dani Metcalfe & Caesar, Unicorn Centre RDA 70.50%
4th Jodie & Brian, Calon RDA 69.25%
=5th Claire Wilson & Cracker, Cleethorpes and Grimsby RDA 65.75%
=5th Stella Jelly & Blueberry Crumble, Avon RDA 65.75%
TVI/PVI Walk Only
🥇 1st Kirsty Laing & Clancy, Wenlo RDA 71.05%
🥈 2nd Isobelle Hardy & Clancy, TBC 70.79%
🥉 3rd Elin Owen & Wsh Something Borrowed, RDA Ynys Mon 67.89%
TVI/PVI Walk and Trot
🥇 1st Kerri Rockey & Justin Lagdun, Ynys Mon RDA Anglesey Group 72.22%
🥈 2nd Lesley Sayers & Second Brook, Ride2Achieve RDA 69.72%
🥉 3rd Alexandra Griffiths Rayson & Bomber, TBC 67.78%
TVI/PVI Walk, Trot and Canter
🥇 1st Lesley Sayers & Second Brook, Ride2Achieve RDA 64.09%
🥈 2nd Carys & Big Spring, TBC 57.05%
Grade 1
🥇 1st Claire Humphrey & Boycie, Barrow Farm RDA 71.75%
🥈 2nd Jane Styles & Arrow Mia, Arrow 69.00%
🥉 =3rd Chloe Davies & Blue Eyed Boy, Scropton RDA 68.75%
🥉 =3rd Elan & WSH Something Borrowed, Ynys Mon RDA Anglesey Group 68.75%
5th Govind & Arrow Wilma, Arrow 68.50%
6th Ella Bennett & Arrow Baline, Arrow 68.00%
Grade 2
🥇 1st Millie Boo & Ace, Equi-Power Central Scotland RDA 70.00%
🥈 2nd Sum & Molly, RDA Hong Kong 68.16%
🥉 3rd Susan Hannah & Ringo Star, Stevenage & District RDA 68.16%
4th Jenny Ma & Opal, RDA Hong Kong 66.58%
5th Hannah & My Last Bob, TBC 66.32%
6th Pui Yee Leong & Molly, RDA Hong Kong 64.47%
Grade 3
🥇 1st Mark Griffin & First Class XI, Cleethorpes and Grimsby RDA 78.24%
🥈 2nd Susan Hannah & Ice, Stevenage & District RDA 72.35%
🥉 3rd Jessica & Ted, Ynys Mon RDA Anglesey Group 70.59%
4th Jessica & Boz, Ynys Mon RDA Anglesey Group 70.00%
5th Jodie Gunton & Ice, Stevenage & District RDA 67.94%
6th Oliver Peace & Bailey, High Hopes RDA 67.35%
Grade 4
🥇 1st Lisa Griffin & First Class XI, Cleethorpes and Grimsby RDA 73.50%
🥈 2nd Oliver Peace & Bailey, High Hopes RDA 62.75%
Grade 5
🥇 1st Janet Alderton & Serafino, Ride2Achieve RDA 69.55%
🥈 2nd Judith Taylor & Hovis, Gaddesden Place RDA 57.95%
Grade 6 Walk Only
🥇 1st Eden & Bramble, Gaddesden Place RDA 72.94%
🥈 2nd Isabella Moon & Dolly Doulton, Unicorn Centre RDA 72.65%
🥉 3rd Carol Monk & Vellator, Barrow Farm RDA 66.47%
4th Janet Hart & Galaxy, Casi's Classics 63.82%
5th David Webber & Arrow Blue, Arrow 58.24%
Grade 6 Walk and Trot
🥇 1st Lizzie Bennett & Puro, Cambs College RDA 70.56%
🥈 2nd Emily Kelly & Valentine, Unicorn Centre RDA Caesar 69.17%
🥉 3rd Philippa Larkin & Thunder, TBC 68.61%
4th William & Caesar, TBC 68.06%
5th Lizzie Bennett & Bonnie, Cambs College RDA 67.22%
Grade 6 Walk, Trot and Canter
🥇 1st Lizzie Bennett & Bonnie, Cambs College RDA 67.35%
🥈 2nd Lizzie Bennett & Puro, Cambs College RDA 65.29%
🥉 3rd Holly Rayment & Millie, Barrow Farm RDA 61.76%
4th Holly Rayment & Jaybee, Barrow Farm RDA 58.53%