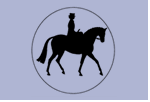 Dressage Anywhere, the online competition website, is working with the Side Saddle Association (SSA) to offer 'state of the art' competitive opportunities for side saddle riders at all levels and in any location, combining the traditions of dressage and side saddle riding with use of the internet. The Side Saddle Association (Area 8) is awarding special rosettes to the highest placed competitors riding side saddle in Dressage Anywhere's June classes.
The schedule is now open and tests in the British Dressage Introductory, Preliminary, Novice and Elementary classes include those being used in the SSA live Championships to be held in August. As Jo Strange, an SSA 'A' instructor, panel judge and competitor says, 'This is a great opportunity for riders to practice these tests and get feedback from top level judges to whom they may not usually have access, particularly in advance of the National Championships in early August.'
Riders film their test and upload it to Dressage Anywhere or YouTube. Once judged by an experienced British Dressage or FEI judge the rider can read and download the score sheet and see their position on the scoreboard - all without having to leave their own yard. They can even submit multiple tests to take advantage of the feedback received.
To be eligible for a rosette (awarded to the highest placed side saddle rider in each class) riders need to email Angela Wells at the time of entering Dressage Anywhere.

As distance is no boundary in this form of competing, Dressage Anywhere is truly international as shown by the many different country flags against competitors' names on the scoreboard.
The Side Saddle Association was formed in 1974 and has successfully revived and promoted this most elegant of sports, bringing it into the modern age. Nereide Goodman, List 1 BD judge and co-founder of Dressage Anywhere said, 'We are excited to be able to play a part in keeping this historic form of riding up to date'.