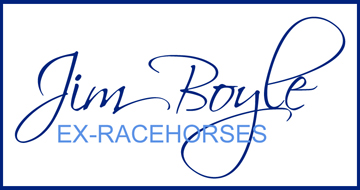 Dressage Anywhere and Jim Boyle's Ex Racehorses have partnered to bring you the Jim Boyle's Ex Racehorses Dressage Competition.
The competition will run every month from September to December 2013 and there's some exciting prizes on offer!
The top 10 placed horses will receive points towards the series final and the horse and rider combination with the highest number of points will be our champions.
To be eligible to take part horses must be Weatherbys registered and can be raced or un-raced. Horses that have raced in the UK, Ireland or N. Ireland are automatically eligible. Horses raced abroad please contact us for eligibility confirmation.
E-mail jimboylesexracers@hotmail.co.uk to check eligibility. Include horse name, breeding details and date of birth.
How it works
Register for free at www.dressageanywhere.com

Enter the Jim Boyle's Ex Racehorses Dressage Competition online (see the schedule)

E-mail

to confirm eligibility

Ride and film your dressage test

Upload your video by the end of the month

Your test will be judged online by a BD or FEI judge

Receive a link to download and save your scoresheet

Keep an eye on the scoreboard to see your placing against other competitors.
Useful links
Jim Boyle's Ex Racehorses Facebook page
Getting started with Dressage Anywhere