We're delighted to introduce Sophie Beaveridge and Portersize Top Dollar, or Topper as he's known at home.
Sophie and Topper are a three day eventing partnership, competing internationally and making a bid for CIC*** during 2014.
October 2015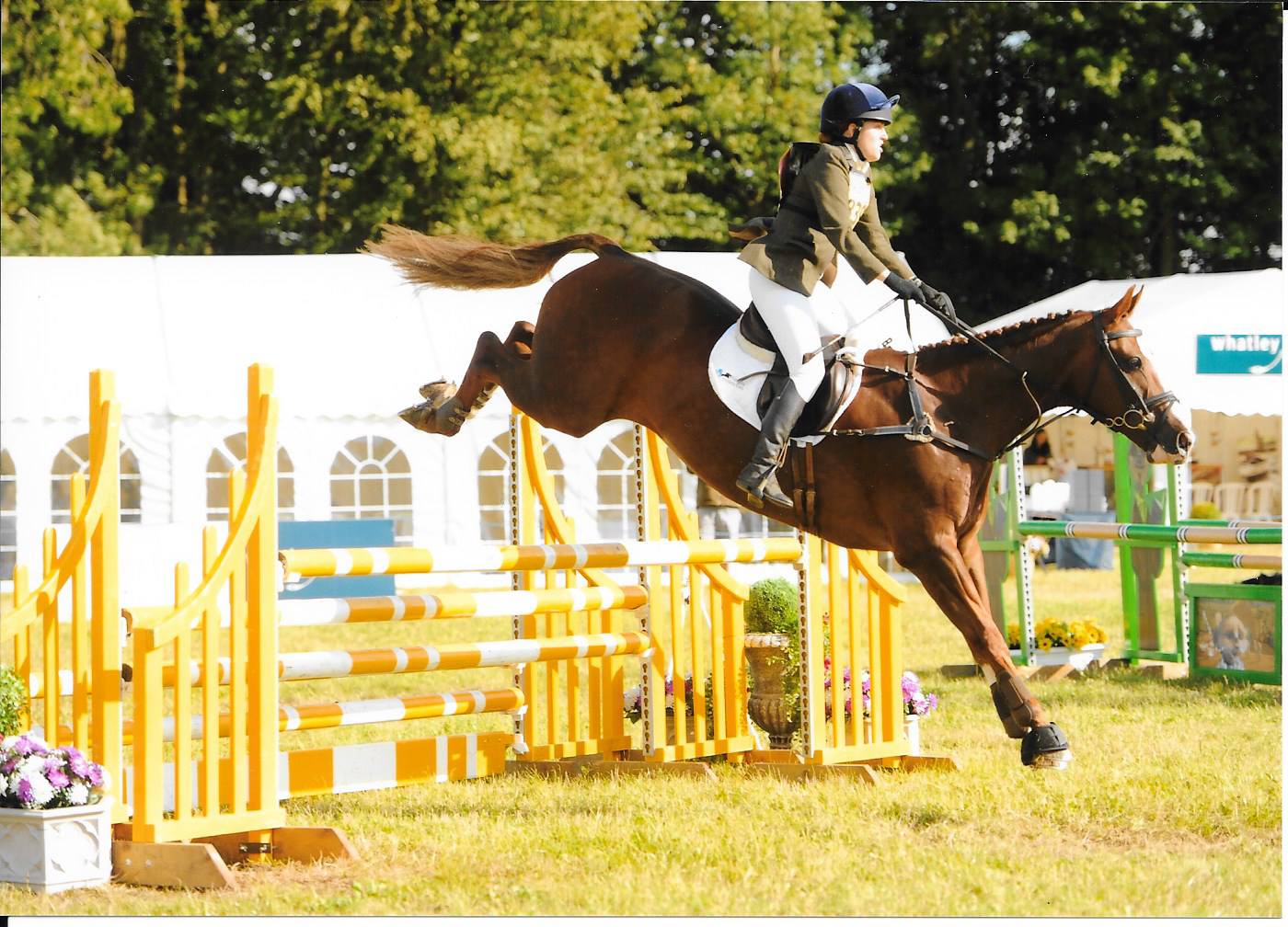 At work we're told that a Growth Mindset (Carol Dweck) is the way forward with learning; trying to focus not on just results, but students' development, 'whole' learning and metacognition. Hard to apply that to a muddy field and cross country fences, in theory. However, I will, because Zipper has come on leaps and bounds this year so this theory can be applied (quite literally I'm often shocked my air jacket doesn't go off because he jumps so expressively). He had never competed AT ALL before April of this year, but this month he completed his first Novice BE. I say completed... we shouldn't have (oops...see below). It's all about what he's learning and the skills he's developing, not the results on the board at this stage. I am so proud of where he is in his development, as an event horse he is learning at super speed, but I'm aware there's more to go!
So if I look back at Zipper's Novice debut at Gatcombe International last weekend with a Growth Mindset, it went incredibly well. And I have to. For him, at the point where he is struggling with flat work and doesn't really know how to project in to a medium trot...yet, he did a good dressage test. He came out with a 36, which I was pleased with. I could do with practising some more tests over the winter as next season I'm determined to get his scores nearer the 20s (where he should be!). We had one down in the show jumping - a lack of concentration at the third fence, so not too bad. Since re-discovering his back end, he's been ballooning over the jumps - how I sit, I'm not sure. We were having a fab time cross country, until we came to a huge trakehner off a turn - he's never had an issue before, but we didn't have much impulsion and it was very gappy. He stopped; he's green and it was huge. I opted for the alternative, which I should perhaps have done in the first place and cracked on to the water (which he made seem like a huge drop, by the time he landed). He then had two very green issues at what seemed simple enough fences, but I'm still looking at these fences through Topper's 2* eyes. Zipper's never seen questions like this before, nor at this size. So I carried on, thinking elimination is at four refusals... not the case. Technically we were eliminated, but we finished the course... because the jockey forgot the rules. However, when he was jumping Zipper was fabulous, he really took on the bigger fences. I just need to kick on! He didn't lose any confidence and he's going clear at BE100s, so there's no point in going back down if he's not being challenged enough. The jump up is a big one for him, so we're going to make sure we take him schooling to Boomerang before the next outing (South of England Novice).
Before we went to Gatcombe, Zipper stormed around Wellington's BE100+, although his dressage test was 'interesting'.... He's also completed his first Newcomers BSJA. Coming up, we've got South of England Novice and Calmsden Novice, maybe Aldon, if the ground holds up. Back to some 'sharpening up' of skills over the winter, hopefully to come out stronger than ever next season; let's hope we can contain Zipper's ego!
August 2015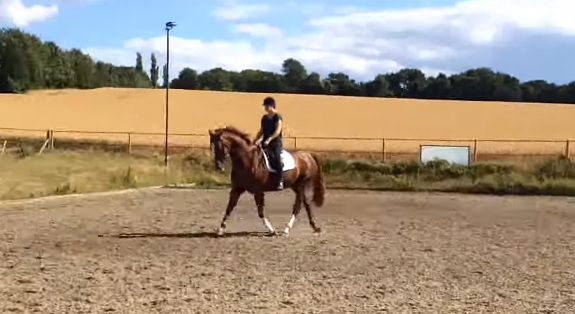 I've had a strange few months. Topper and I seemed to be starting the 2015 Eventing season well, after an amazing first half of the 2014 season, going abroad and competing at CCI**, followed by a lot of time off due to injury (me). At Aldon, in March of this year, we had ridden our best dressage yet (67%), at Open Intermediate, and were heading for a double clear, until Topper planted and refused to jump the second to last fence XC. He's normally such a demon XC, we just put it down to a bad line to the fence. However, when taking him out on a hack 2 days later (my normal recovery from an event) he was hopping lame.
The vet wasn't sure what was wrong to start with; there was no heat or swelling in the leg. After scans at the vet it turned out to be a 'wear and tear' injury to his fetlock, commonly seen in racehorses after a couple of years of racing (or, in this case, an event horse that's been competing solidly for 12 years).
He was given steroid injections and kept on box rest for a month before being allowed to hack out at walk for a month. Although 'walking' was a bit speedy at first! Unfortunately this response to his injury didn't seem to be working, so since then we've tried a couple of others and he's now very gradually on the mend and we're finally allowed to trot him on a surface.
It's been a difficult few months, but we're hopeful he'll be back on the scene next year; perhaps in a stronger bit, he'll be that excited in the start box!
To balance out this frustrating situation with Topper, I've been given a very exciting opportunity: Zipper. Or 'Orange', as my mother calls him (Zipper/Topper... apparently really tricky). Zipper may as well be 5; he'd never competed before this April, when I was offered the ride.
He's rather enthusiastic with all that he does and at 16.3hh, everything is quite hard to sit to! I'm told his breeding is very exciting, but my main concern is sitting to his trot, a feat only achieved by a specially made saddle I borrowed from my trainer, David Steans! So Zipper and I started out doing BE90, where, after our first very 'baby' round, we've had some great successes and placings including a 23 dressage (PB!) and some awesome clears.
Impatient as I am, I took him up to BE100 in June, where we've had to tackle some seriously skinny fences! We've also come across the odd issue with breaks and steering; the fitter and stronger he gets, the harder this becomes. We've had some great rounds XC, but the odd issue with focus in the show jumping. There's just SO much to look at. We've been tackling this by going BSJA, where we've been jumping clear at 1.10m.
We've come across some challenges along the way, it's inevitable, he's learning and I'm learning about him. We've got one more BE100 this weekend, then a BE100+ at Wellington (hope we don't mess up on 'our turf') at the end of the month, before hopefully going up to Novice in September.
The one thing I find I've been getting frustrated at is the inconsistencies in our dressage tests. We're still working on the 'wait, what? You want me to go sideways?!' issue in his training and the concept of a medium trot is lost on him...; but he's learning! He's come a long way and I'm so pleased with how he's gone from being a casual hacker to a gorgeous event horse in four months. We entered our first Dressage Anywhere test as a new partnership in July and came 3rd with 65% (forgot to wear my gloves and was docked 2 marks...; oops).
I'm really excited by the possibilities on such a fab 'baby' horse (he's actually 11, don't tell anyone) he's the best distraction from hop-along in the field ('Brown', aka Topper). Fingers crossed they'll both be out competing together next season, arguing over who's Alpha!
August 2014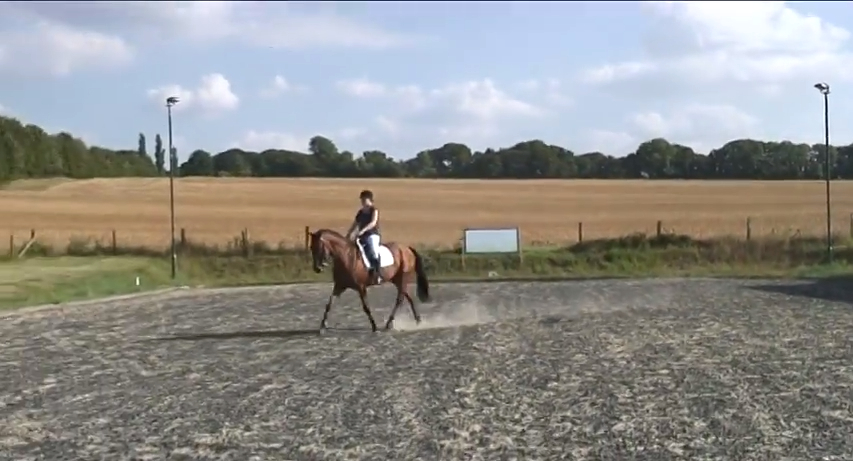 It's been a very up and down time for Topper and I, during the last couple of months. We went abroad to Tattersalls International in Ireland (competing in the CCI** U25) at the end of May and had an amazing time; the cross country was massive, nearly 10 minutes long and included 4 waters (built by the fantastic Ian Stark). Our dressage, however, was embarrassing. Topper seemed to think the cameras, music and general atmosphere were, despite the fact he's comfortably in middle age, terrifying.
So we've had to re-think our approach to tests since then...This leads me on to talking about my new best friend: The Double Bridle; I finally have some control. I can't believe I'd overlooked this for so long. It's fab though, Topper's quite a sharp TB, who can be easily distracted and doesn't always think what you're asking for is important, but he's had to admit defeat in this. So with my new best friend, I've been able to ask more of him when schooling at home, no longer do I have arguments over whatever takes his fancy, but I can actually get some work done.
It's thanks to this new attitude to schooling that we've been producing some quite nice tests for Dressage Anywhere. So far, since Tatts, I've entered two Elementary tests (2nd, 4th) and one Medium test (2nd). Watching the tests back has been a great training aid, one that Yogi Breisner used to use with me when I did FEI ponies. I particularly like that I can read the judges' comments and scores at the same time as watching the moves, so I can start to think how my work is being judged and why.
I'm aiming to do another Medium this month, so I'm working on my pirouettes! It's so great to get the chance to do these tests at home; they're tougher than the British Eventing ones I ride (Intermediate/Two star), but it's always better to practise at a higher level.
In terms of Eventing, I've had a bit of a set-back with his majesty; unfortunately Topper had a really bad fall with a friend of ours, so he's needed a bit more time to get back to the level we were at with Tattersalls. With the physio he's needed and the confidence building we've been doing, I've had to withdraw from a couple of events which is a shame (however, I've been able to work away at my dressage!). I've got Wellington OI coming up on the Sunday of the bank holiday, so fingers crossed we're all set for then. After that, we're headed to Gatcombe and South of England, hopefully ending the season on another CIC, all hopefully working towards our CIC** qualification.
May 2014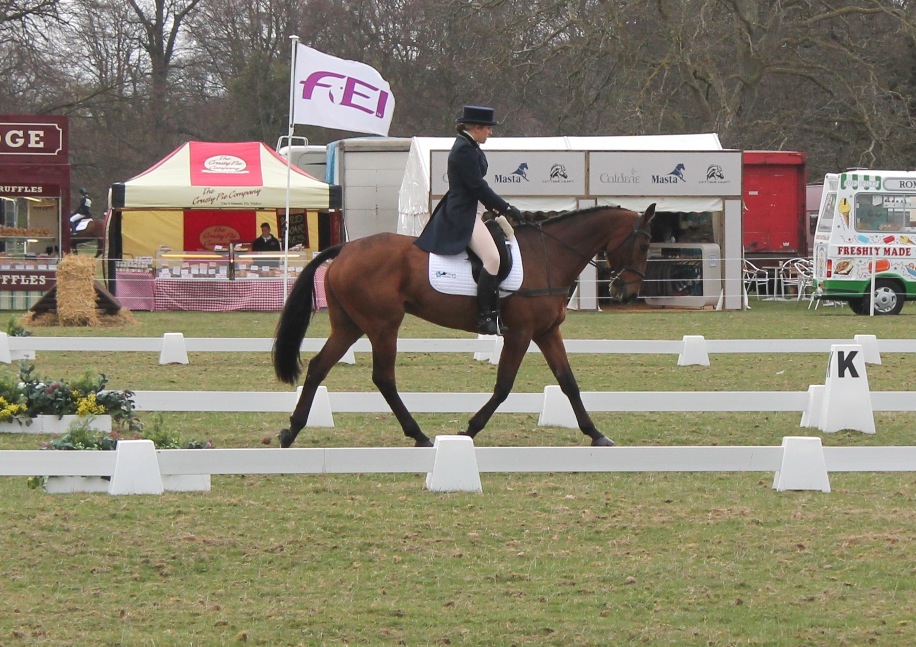 'We had a successful snapshot of a season in 2013', said Sophie, 'having only purchased and started competing Topper very late in June, following a career-ending injury for my mare at Hambledon ON, we came 11th at a CCI* International at Aldon (49.4 dressage, double clear) to finish the year, which we completed in order to gain our CCI** qualification.'
Sophie and Topper have been a partnership since June 2013, and in that time have been very successful at the five competitions they've taken part in. 'We started with one BE100 Open (7th), barely days after buying him, and quickly progressed up to ON- where I was 12th. From there, we went straight to Open Intermediate at Wellington HT and came 7th against all the professionals, round a massive course!'
Watch Sophie and Topper in action at Wellington HT: http://www.youtube.com/watch?v=X7EuisSS9ig.
Sophie and Topper went on to South of England Open Intermediate, where they competed against all the Blenheim 3* horses. 'It's a shame the season had to end when Topper and I were getting going so quickly, but I have been training through the winter and I hope to come out strong in the spring. My dressage training takes place with David Steans, who is a Prix St George dressage rider; I have previously been trained by Yogi Breisner and Jonquil Hemming, when I was in the Pony European Squad (aged 12-16). Now, however, I am at the ripe old age of 24 and balancing eventing with teaching teenagers about Macbeth.'
Sophie and Topper got off to a great start in 2014 at Belton CIC** and are very shortly travelling to Tattersalls, Ireland for the CCI**.
Keep up to date with Sophie's progress and journey to CIC*** with Dressage Anywhere!