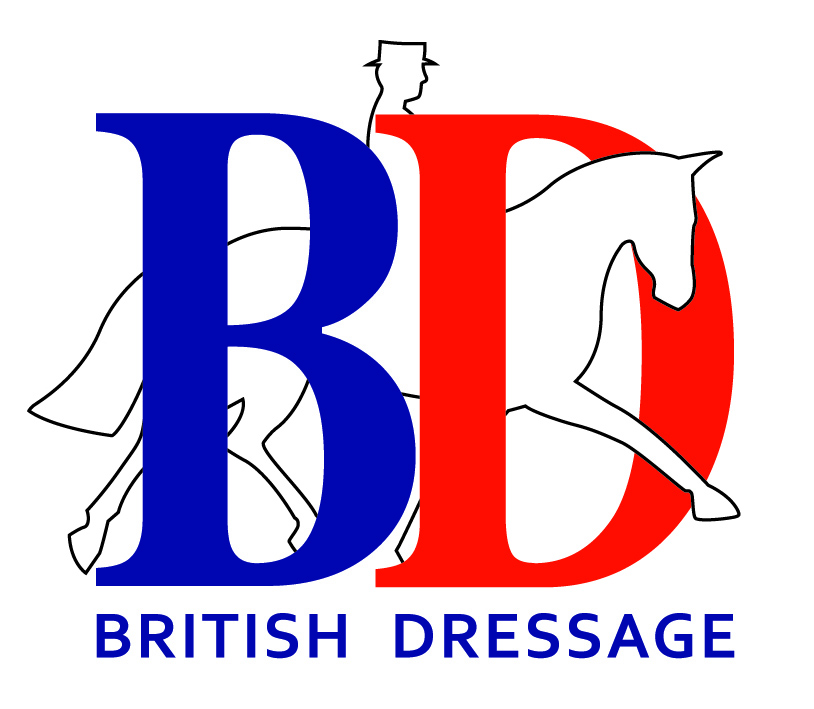 After the success of the first British Dressage Associate Online Championships in 2013, this year's was even better. We had competitors from all over the world entering from the comfort of their own yard.
Winners this year received their beautiful rosettes and free British Dressage membership and horse registration, with the runners up receiving rosettes and BD membership discounts. To qualify, riders needed to score over 62% in 2 tests at Introductory, Preliminary, Novice or Elementary level during the five-month qualification period, with the added excitement of tracking their progress on the virtual scoreboard.

The Introductory A Class was judged by BD List 1 judge Sue Petty who was very impressed by the high standard of competitors 'The first and second horses were very close. They both showed promising, correct paces and presented consistent tests. They showed ability to progress in the future.'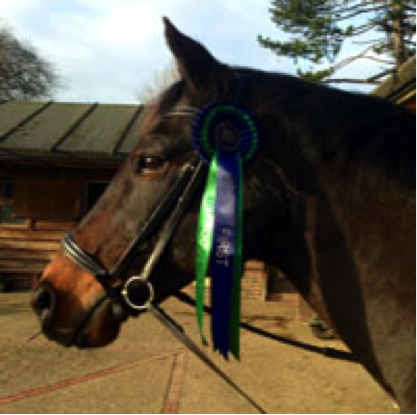 Upon receiving her rosette, Lucy Latter from Surrey revealed she was 'stunned' to have won as she and Breakthrough have only been competing since April 2014 and is now looking forward to making the transition up to Preliminary soon.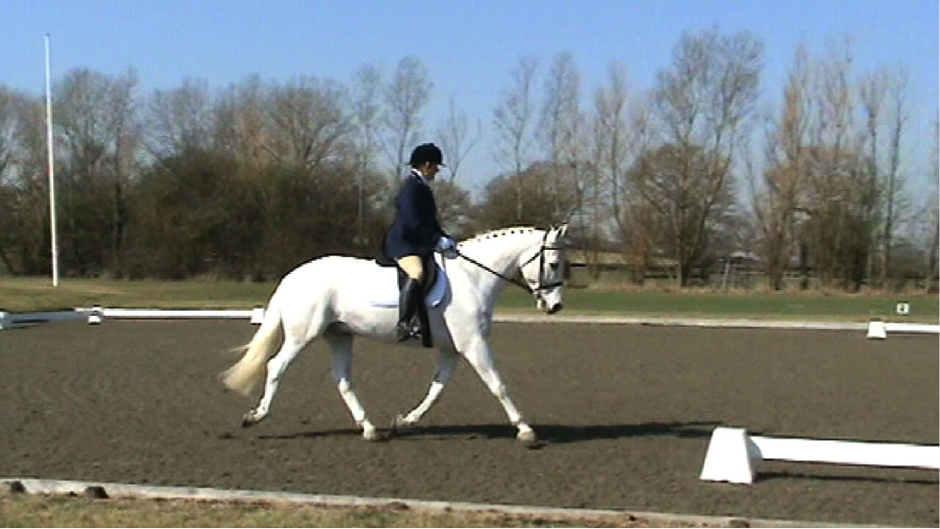 Anne Busson from Sussex, who came 3rd with Snowjoker loves competing with Dressage Anywhere. In 2009, Anne went to feed Snowjoker and found him covered in lumps. Following a confirmed diagnosis, he underwent treatment with steroids for allergies. After several days of turnout, the lumps had disappeared and the steroids were reduced to zero. Snowjoker is now fit and healthy with only the occasional flare-ups. Anne joined Dressage Anywhere as she could enter when he is healthy and clear of lumps; she is delighted at their placing in the Championships.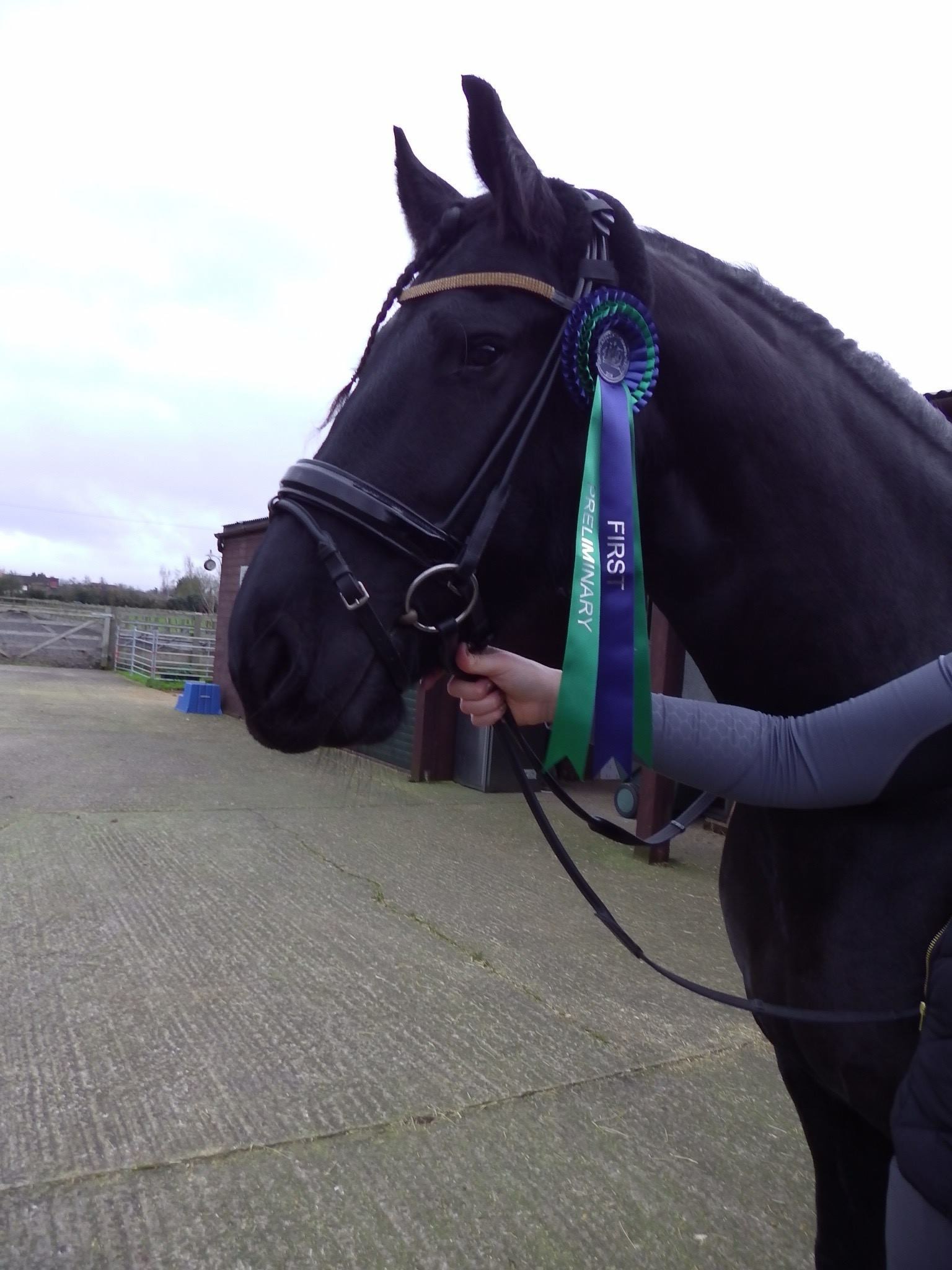 Lucy isn't the only winner of a class to have a newly formed partnership with her horse. Laura Butcher from Gloucestershire imported Fries Van Blauw Kapel, a 5 year old Friesian, from Holland last year and only started competing with Dressage Anywhere in July as she doesn't have any transport. That hasn't stopped her competing and having goals to aim for however, she finished 14th in the Riders League and says, 'I never imagined that was how we would finish our year and I couldn't be prouder of my once in a lifetime dream horse.' BD List 2A judge Leanne Wall is impressed by the huge variety of horses that enter Dressage Anywhere competitions and says 'I feel very privileged to have been asked to judge the Prelim final. The standard was high and the marks were close. Much budding talent is clear to see and I was particularly impressed with the harmony shown in many combinations throughout the 2014 season. Many congratulations must go to Laura Butcher as she produced a fluent, active, consistent test with pleasing preparation shown for every movement and transition.'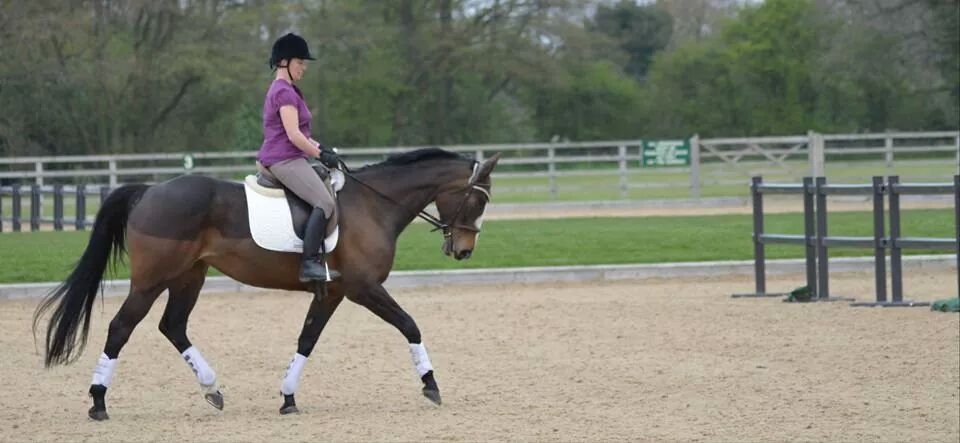 Jo Goodwin from Salford, who came 2nd has started thinking about affiliating with her horse Absolutely Avalon as her Dressage Anywhere scores reflect those of competitions they've entered and she says that 'second in the Prelim and fifth in the Novice BD championship show has proved that we are good enough'.
Coming 1st in the Novice class was Dawn Gray, a competitor from South Africa on her horse Vyfhoek Copper Penny with an impressive 71.46%. Dawn is the only one who rides dressage at her yard, so Dressage Anywhere is that perfect outlet for her, 'I love getting my tests in, and then our team sit and scrutinise the scores; it's almost like being at a real show, being part of the team has given me a home as no one else at our yard or area really does dressage'.
Sara Parsons from Hampshire, who scored 68.96% with Destiny's Child coming in 2nd, is thrilled with her score and said that it has re-ignited her competitiveness. 'Coming second in the Championship test was a proud moment and the stepping-stone we needed towards competing in Affiliated Dressage. I look forward to strengthening our partnership in 2015 away from home and continuing to use Dressage Anywhere as an instrumental tool in achieving our further goals. Let's see if we can win the Elementary Online Championship next year!'
BD List judge Kim Ratcliffe said, 'I enjoyed judging the class and was delighted to see that the majority of competitors would have been able to hold their own comfortably in any affiliated novice class.'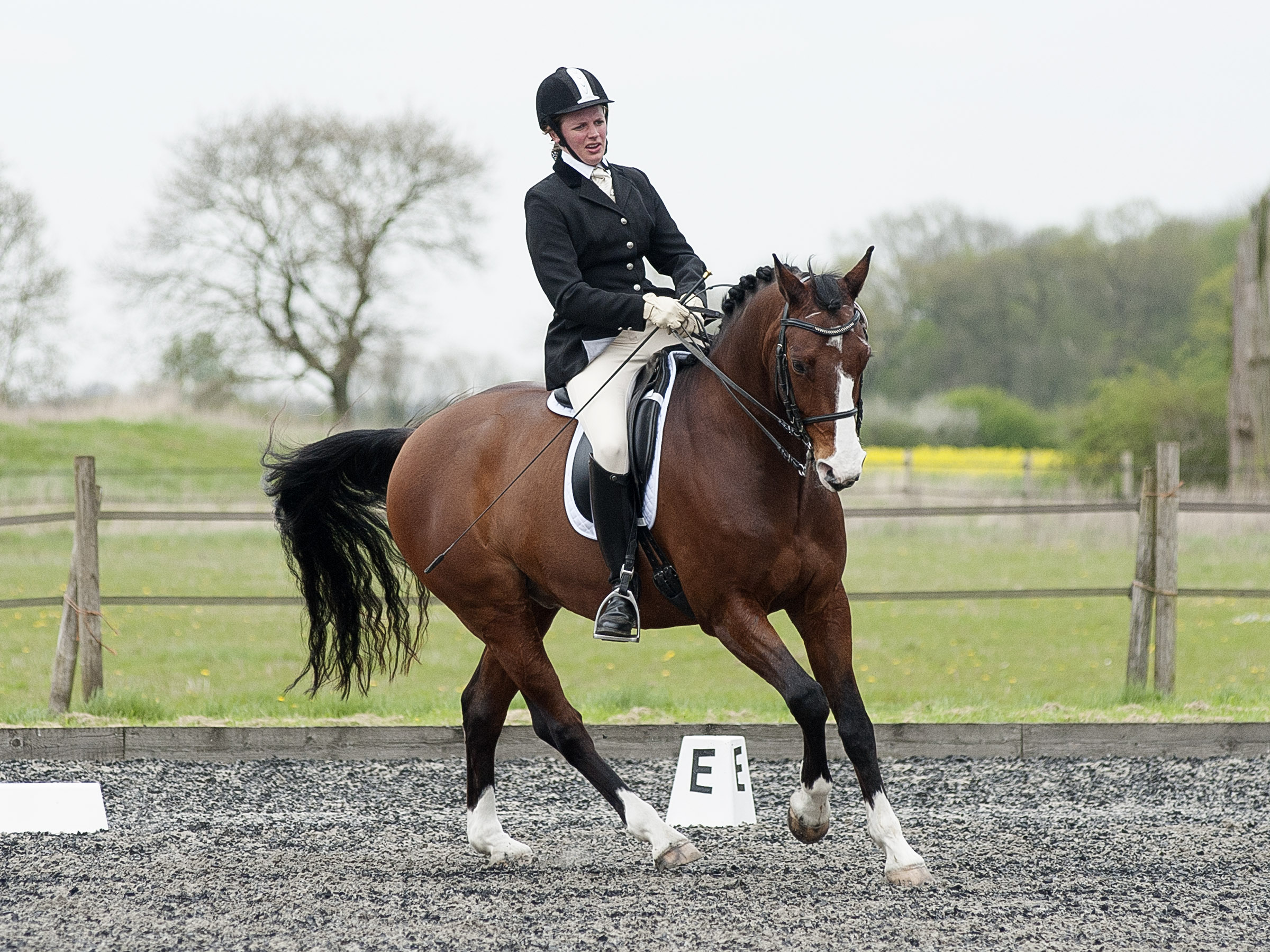 Tea Witchalls from Herfordshire scored a fantastic 69.40% on her horse Mr. Lou-Bi-Light in the Elementary class. Tea is another rider who has an incredibly close relationship with her horse having been present at his birth and then importing him when he was a yearling. Mr. Lou-Bi-Light is taking a well-deserved holiday whilst Tea has a baby, 'he has had a very busy year with going successfully from Novice to Advance Medium in 7 months and he is only young, so he deserves it. Once I have had the baby we will start up again and I hope to do the Medium and Advance Medium Area Festivals next year before introducing him to PSG.' Tea heard about Dressage Anywhere through her instructor and finds it a brilliant tool to help her finely tune her test and boost her confidence when she is out competing. List 1 judge Debby Lush commented that it was a 'fluent and well-balanced test'.