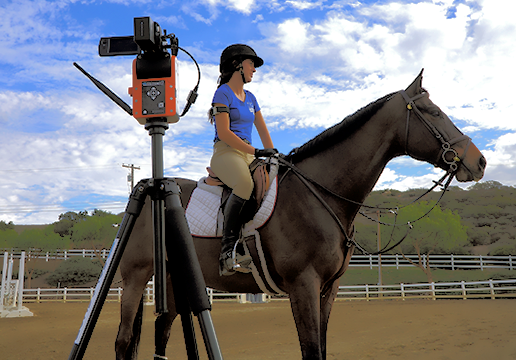 Which team will be our lucky winner of this exciting remote video package? We're so excited that we've another to give away to our 2015 Team Challenge winners!
There are now 13 teams competing across the world with Wellington Livery Team and Desert Everywhere in the lead on 29 points. It's great to see new entrants for 2015 from Desert Everywhere UAE, Desert Palm Divas UAE and Twin Palms Riding Centre Bahrain!
The MIBOT remote video package puts you in control so you can capture what you want when you want. It's an ideal solution for Dressage Anywhere competitors, allowing you to automatically film yourself and your horse without needing a camera person. By simply wearing a tag on your arm the camera, mounted on a tripod, tracks you as you ride around the arena, automatically panning, tilting and zooming to keep you perfectly framed.
The MIBOT package consists of a Soloshot 2 remote camera tracking device, a Sony HD Handycam, which you may also use independently, a tripod and a custom designed rugged carrying case to keep everything secure and protected.
If you can't wait to get your hands on one of these incredible systems then go to www.mibot.co.uk to buy one right now. What's more, Dressage Anywhere members can claim an exclusive 5% discount by using the code da2015.
Check out the system in action here and keep your eye on the Team Challenge scoreboard for the latest results.