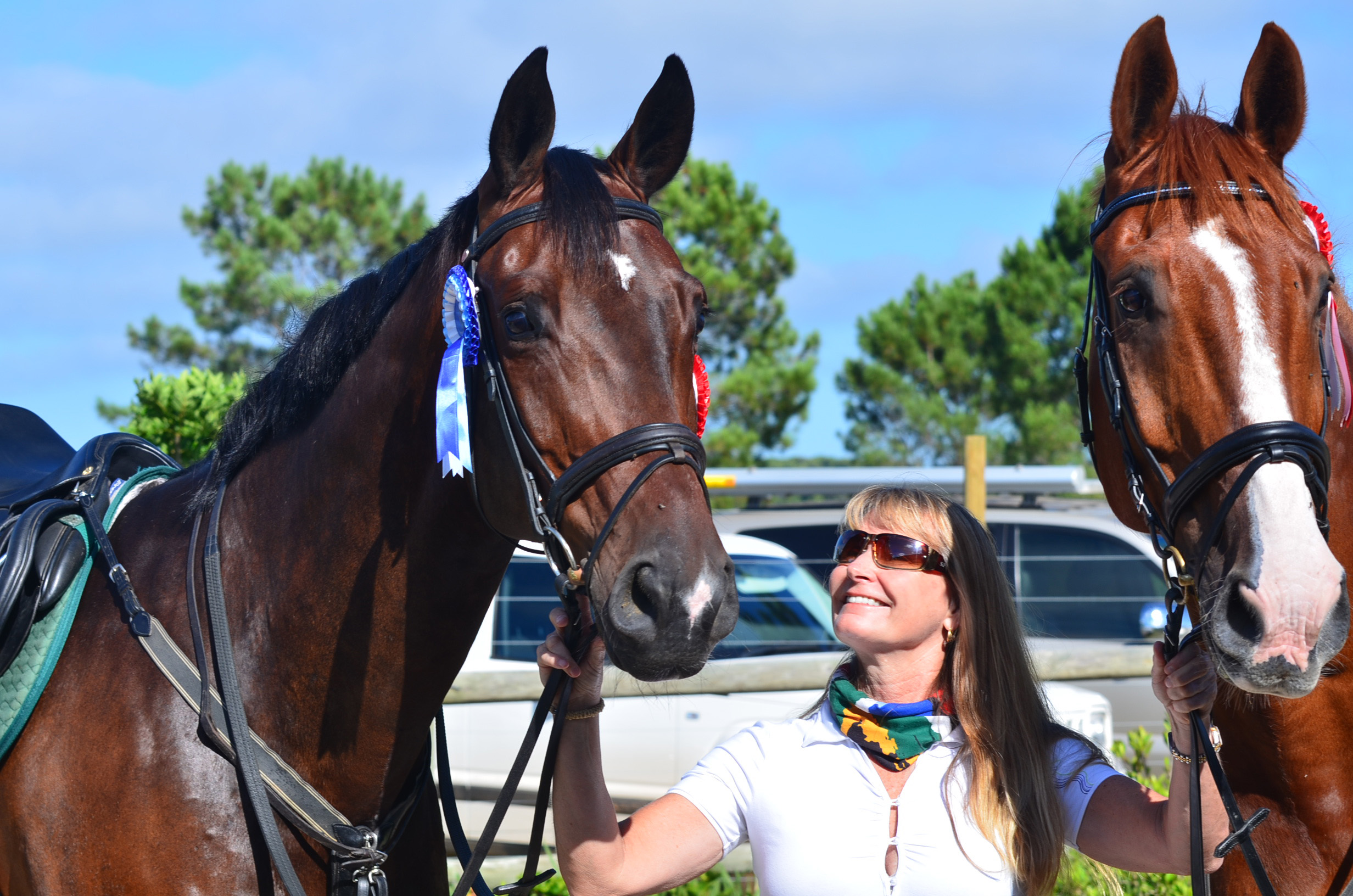 In this special article, Robin Haysom tells us all about her fight against breast cancer and what our #wearitpink campain meant to her.
'I was delighted to be asked by Nereide Goodman of Dressage Anywhere to share a little of my own fight against beast cancer for the #wearitpink campaign.
'Five Years ago after a very stressful transition from Dubai to South Africa with husband, horses and dogs it was not many months before I found a small lump in my right breast, which was confirmed by mammogram and ultrasound as breast cancer. I woke up from surgery to find myself with one less breast; a total mastectomy was considered necessary to ensure a fighting chance at a future. What a shock! How does one get up and fight the very thing one has feared every mammogram visit.
'The obvious of course is the support of family and friends and that was total and overwhelming! But for me the things that kept me positive and forward were meeting people who had survived and were living normally and to focus forwards on all the goals and dreams I had ever had. My oncologist very bravely let me continue on my planned Alpine Pass Hike in Switzerland within three weeks of the surgery... eight alpine passes hiked with backpack in 14 days, supported by my husband. As well I had two large warmbloods needing work and attention, so on completing the Hike it was straight back home to the horses and treatment.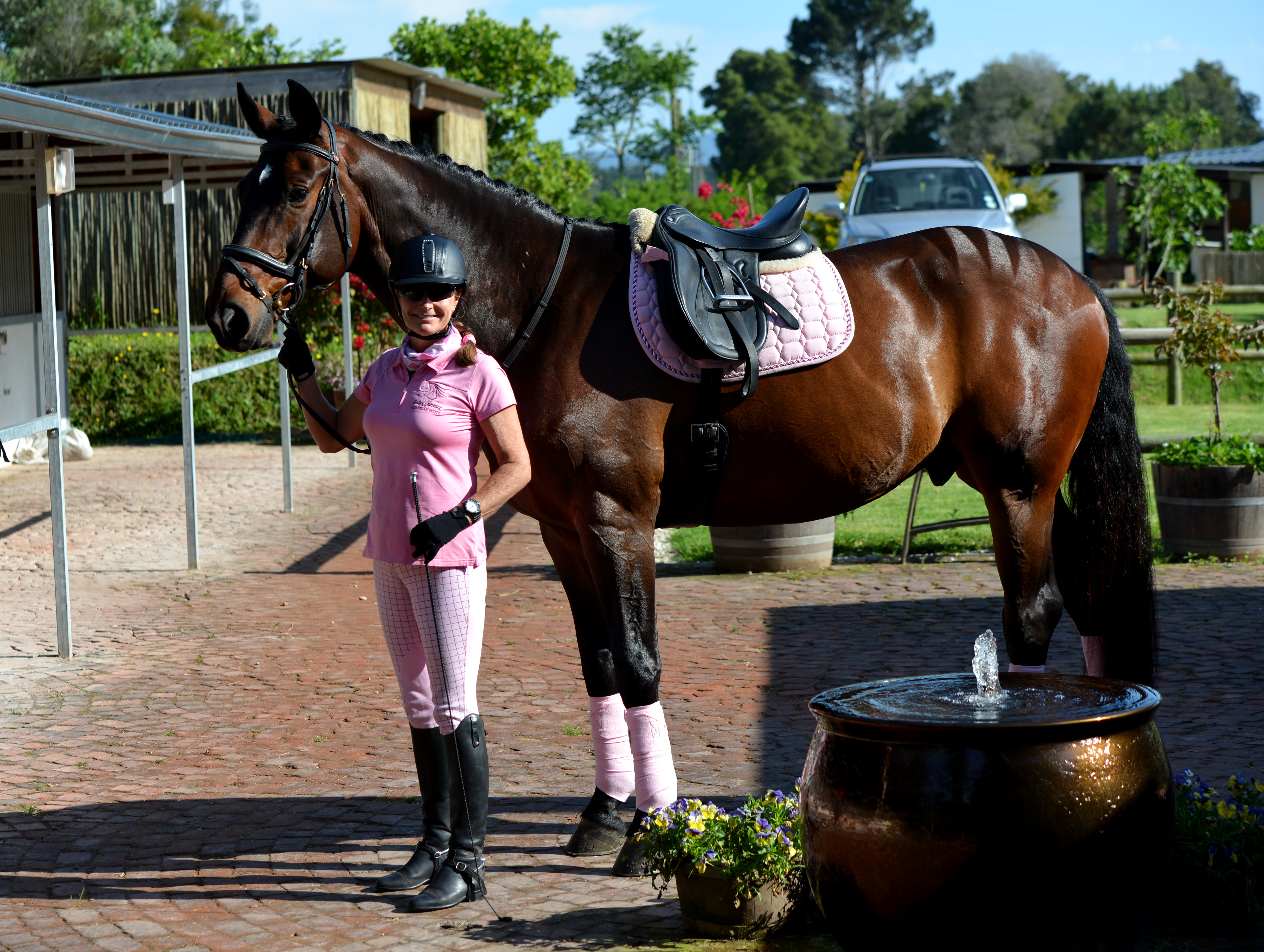 'I believe that the goals and focus on my horses are what have kept me positive and healthy, no time to sit and be sorry or mourn the changes that inevitably come. I embraced the prosthetic, although it does tend to slip at sitting trot, and decided against reconstruction, a personal choice, no time when you have four (have added two since) very large warmbloods to develop and bring to their potential.
'Sadly my courage for showjumping went with the right breast overnight; jumping was just not something I wanted to do, so I adapted and focused firmly on the dressage, remembering a lesson with Nereide in Dubai, me saying, "I am not really a dressage rider" and her quick response, "Well you should be"!
For all my fellow warriors fighting, remember to focus forward, roll with the blows and keep putting one step forward until you are cancer free.
So began a journey of discovery and as I live in a paradise called Plettenberg Bay in South Africa the availability of shows and top class coaching are limited. I have however had the help of a great and solid trainer Delite Scruggs and latterly Debbie Slater from Cape Town who have assisted where they can on my journey. But the best is being involved with Dressage Anywhere and the ability to set goals and test my progress as and when it felt right in, most importantly, a stress free environment.
'I have been able to bring Di Nozzo and Callaho Waikiki from Prelim to Elementary and have enjoyed letting my ex showjumper Sir Carlos go from Novice to riding his first Advanced Medium, albeit with some rather extravagant and showjumping flying changes, we made it through.
'Every time I achieve my test and receive my results with constructive and knowledgeable comments I am motivated to get back out there and train and achieve more. Riding for the #wearitpink campaign was an honour and a celebration. Thanks Dressage Anywhere and for all my fellow warriors fighting, remember to focus forward, roll with the blows and keep putting one step forward until you are cancer free.'