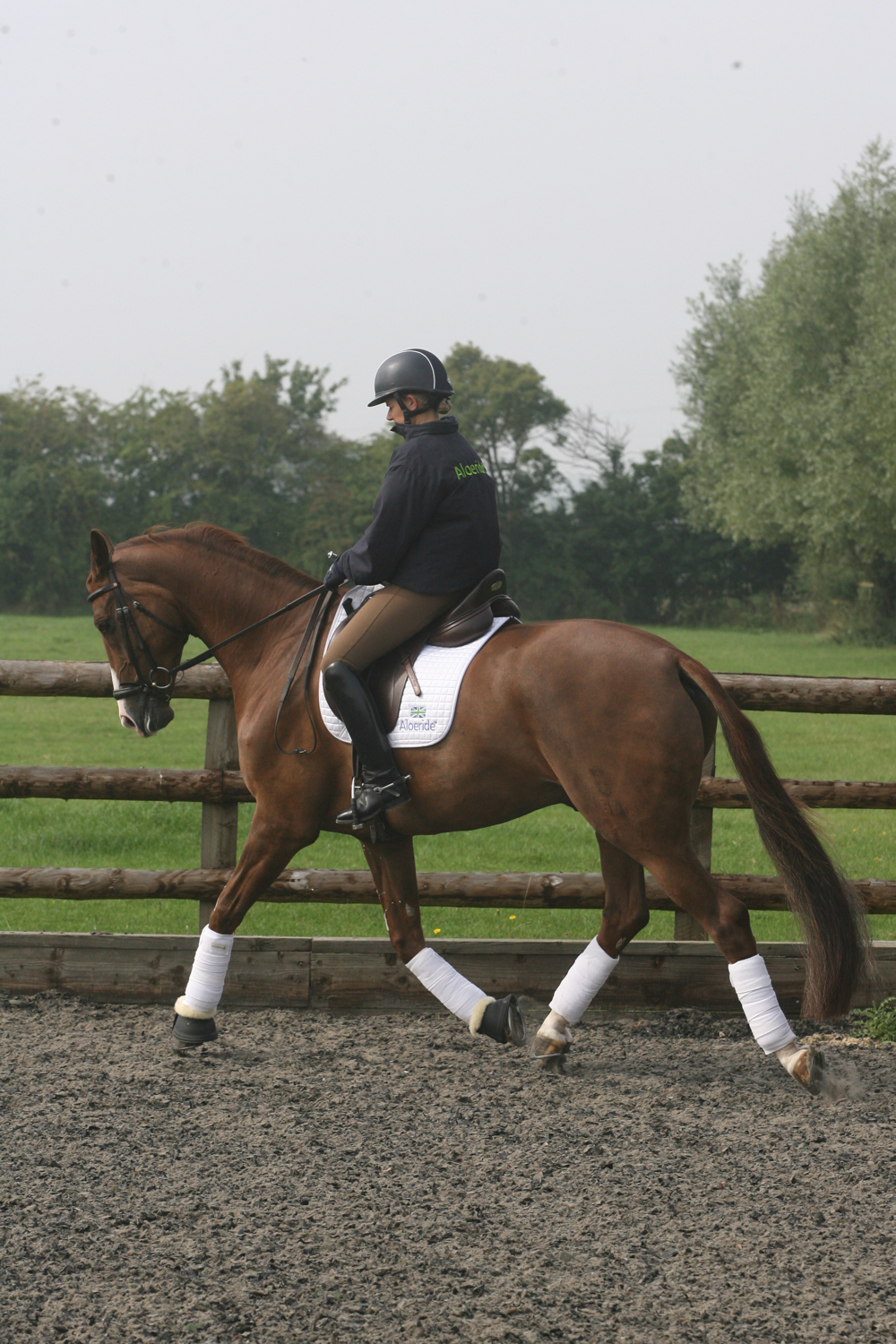 Courtesy of Aloeride, the natural aloe vera supplement, top international dressage rider Lucy Cartwright talks us through her top tips for putting those finishing touches to your dressage test and shows how you can pick up valuable marks.
Seen here riding Samba Dance, a 7yr old 16.1hh gelding owned by Chris Richards and Audrey Lawrence.
Before the bell, make sure you use your time riding around the arena to your advantage, don't just dawdle around. If you need to wake your horse up, then work in some transitions within the canter or if he isn't listening ride some direct and indirect transitions. This is also the perfect time to show a spooky horse those flowerpots or judges in the car to ensure that he is relaxed and focused on you as soon as your test begins.
Straightness on your first centre line makes a great first impression but it isn't easy to ride. Practise this movement at home, ensuring that you make your turn correctly in order to hit the centre line, not under or over shoot it and make sure that your enter positively by riding forward and straight.
I like to practice lots of halt transitions at home when training. Start off by going large around the arena and if your horse tends to swing his or her quarters badly one way, then make sure that you ride on the rein where the swinging quarter is on the wall. This will help even up your halts to help make them square. Remember the halt needs to come from the hind quarters and so don't forget your half halt just before you ride the halt and think about the movement as being forward from walk or trot INTO the halt and think about riding those hind legs forward and underneath the horse. If your horse is on his forehand, he will find riding a square halt with a soft contact hard, so practice this a lot at home to lighten his front end and help build impulsion from behind. I also use lots of halt transitions in my competition warm up too.
Make sure that you always ride into the corners of the arena as this not only allows you to set up each movement properly and show good preparation, but it also helps engage the horse's hind legs, again helping to improve the quality of paces.
If your circles are more egg shaped than round or they vary in size, then you need to do some homework! Riding an incorrect shape or size is such an easy mark to throw away, so practice at home and if necessary mark out the arena with poles to ride within or poles laid vertically along the length of the school, so that when you ride your circles, you have a visual reminder, until you become familiar with riding everything from 10 to 20 metre circles.
Make it easier for your horse when riding medium trot and lengthening the trot stride by using your corners and slowly building the energy and power (not speed) and make sure that you ride really clear transitions at the start and finish of the movement.
Some tests call for canter-walk-canter transitions and the key to riding these correctly and getting the right lead is to make sure you are straight on your line and that the horse is not crooked. You need to also show the judge clear walk steps in between the downward and upward transitions.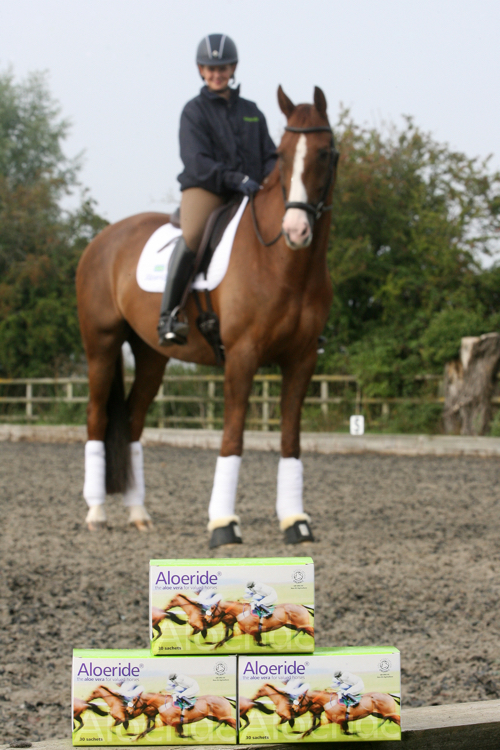 We feed Aloeride to our horses and it's particularly beneficial for helping to keep the horses feeling and looking good, which is really important for all our dressage horses, who are busy competing all year around.
Finally make sure you know your test inside out, so you can not only concentrate on the quality of the test you are riding but also prepare for each movement correctly and not worrying about where to go next!
Photos: David Miller Photography
www.aloeride.co.uk
01858 464 550