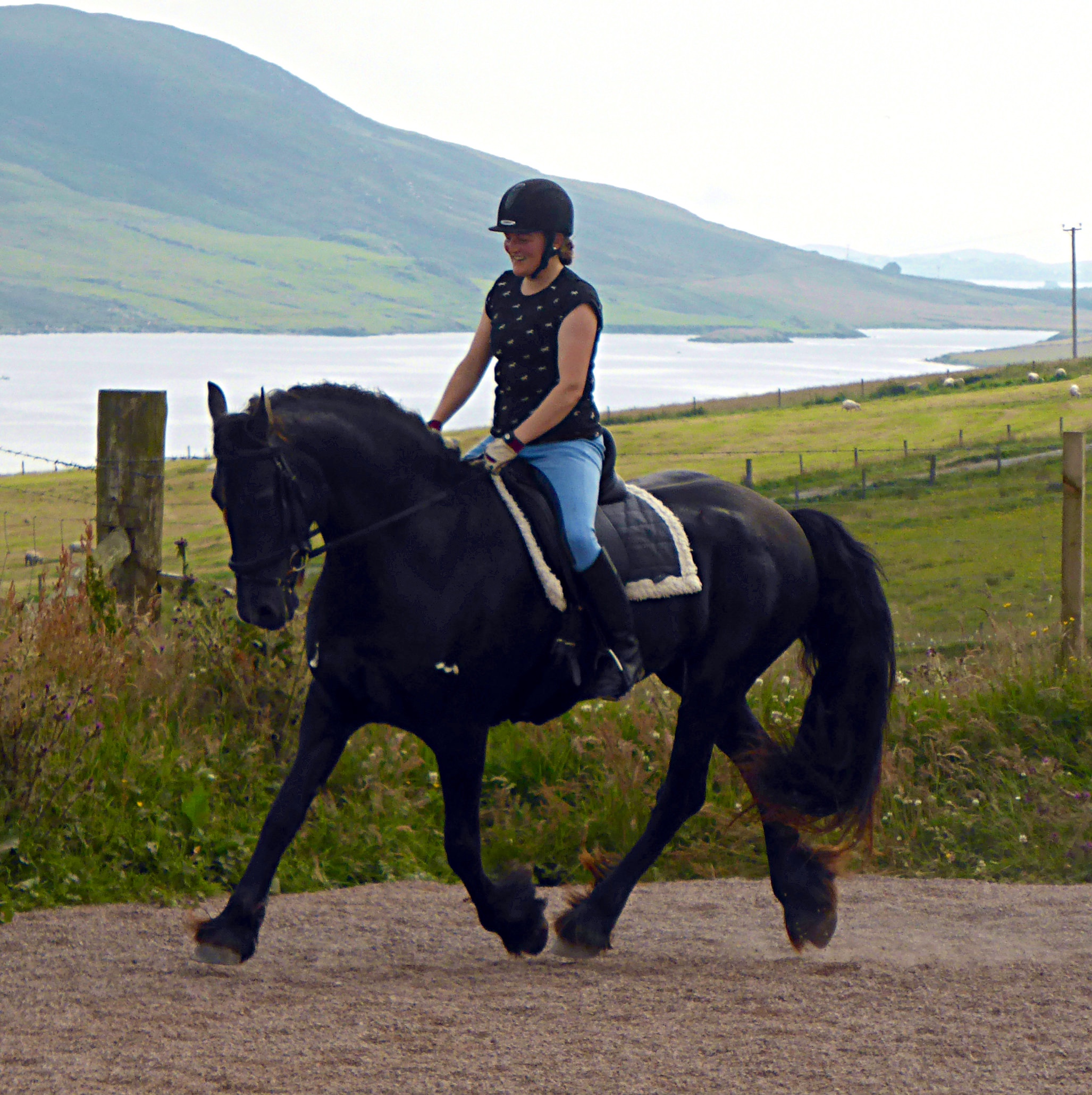 Dressage Anywhere regular Lee Smith got in touch to tell us all about Jolie, life in Shetland and how Dressage Anywhere has helped her compete.
I have owned Jolie (Jolien Van Rijnwoude) for two years. My friend, Janine Mason, who breeds and imports Friesians knew I was looking for another Friesian and thought we would be a good match. I was looking for a horse with potential, nice paces and willing to work. I have always been dressage orientated so was predominantly looking for a horse to compete in dressage and I must say my friend has a good eye for horse and rider partnerships. Jolie is a sensitive mare, she isn't mareish at all but only works for certain people and if you respect her she will give you all the respect and loyalty back in return.
She was originally imported from Holland, so with no real knowledge of what she had done other than in her previous home in Perthshire it was fun seeing how her buttons worked. I knew as soon as I met her she was the one for me and after I rode her I knew she was coming home to Shetland.
Sheltand life
Living in Shetland with a horse has its constant challenges. We have a lot of the elements against us, there is almost always a constant wind and in winter it's often gale or storm force. Winter daylight is limited so riding after work never happens for me, we are limited to riding at the weekends if it's good weather and not too windy. I don't have an outdoor arena, I have to travel half an hour to use my friends arena. Shetland doesn't have an indoor arena either so all my riding is done in fields and on the beach. Jolie's stable is at the head of the beach, when the tide is out it makes for a lovely arena.
Competing in Shetland
We don't really have any dressage competitions here, most folk are interested in showing and show jumping so Dressage Anywhere is perfect for me. I can school at home then travel to an arena to video my test. What I really like about it is I feel like I'm competing, you have to work really hard, the competition in each class is to a high standard and the judges have a great eye, so when you get a 7 for a movement you know you earned it. I don't have an instructor either, a visiting instructor travels up to Shetland twice a year who I get lessons from so comments from the judge for me are really important it allows me to take that back to the next schooling session and work on improving our movements or paces.
Bringing people together
Together we have a good partnership, we have a lot of trust in each other, I'm constantly learning from Jolie. She has a big movement and a Friesian's movement feels different to other horses, I just love it. I'm good friends with Jo Tullet, a fellow Friesian owner and Dressage anywhere competitor so we are constantly exchanging thoughts and comments on each other's test and ideas to help improve both horses ways of going. We both live at opposite ends of the UK; it's great Dressage Anywhere has introduced us to each other.
Goals
Jolie and I started at Prelim level in Dressage Anywhere competitions and last month we did our first Elementary test. The feedback from the judge was great, it gave me a real boost and I'm looking forward to doing our next test later this month and receiving my test sheet. My goals for the future are to establish our paces and movements at Elementary level then hopefully progress up the levels and if I get the chance, travel onto the mainland and compete.