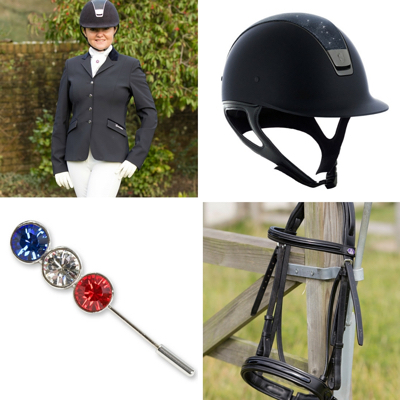 With the Olympics looming, we spoke to Alison Nye-Warden, dressage rider, MD and owner of leading UK on-line retailer and our championship sponsor Dressage Deluxe to find out what she thinks the British team will be wearing on the world stage this July.
Whether you ride for your local club or ride for your country, dressage is about creating an elegant picture and what you and your horse choose to wear in front of the judges (or the world's media) as is the case for our Olympic rider, who can set a trend or cause much debate!
Here in the UK, we are currently selling lots of Swarovski crystal embellished rider and horse wear: from designer bandages with crystal crowns for the warm-up, through to 'bling' brow-bands featuring pearl detailing and jackets with crystal buttons.
Individualism
The trend for individualism is continuing to shine through with top riders in the UK looking to add that individual touch to their competition wardrobe. Whether it's a bespoke tailcoat with different coloured waistcoat tips and unusual buttons or the trend towards safety hats and the opportunity for designer bespoke headwear, it seems top riders want to set trends, not follow them!
Riders are also changing their attitudes towards their shirts and whilst we still offer plain white competition shirts, we have also searched extensively to offer something more unusual. Many riders love our collection of striped shirts or those with crystal buttons, because as temperatures rise, you want to look as good on the horse as you would walking around the show ground.
Jackets and breeches are becoming more technical, with riders demanding more from their clothing. Not only do they need to look great, but they need to perform also. Clothing needs to look good, be comfortable and be breathable. Our customers are really into the new 'Grip' style breeches, which feature Silicon seats and for jackets: Soft-Shell is a big fabric story.
Patriotic story
The 'Patriotic Story' is bound to carry through in the build up to the games and I particularly love our Union Jack scrunchies and our new Red, White and Blue crystal browbands. They are stunning and whilst I might not be riding for my country at the Olympics, I will be wearing my Union Jack colours in support!!
Safety first
Riders are also really embracing the safety hat rule here in the UK even at the top level, choosing to wear the new style safety helmets even at PSG, although I am not sure if we will see this right across the board at the Olympics. Samshield are a real 'must have' helmet brand and with Samshield's clever 'configurator' option (which we offer through our website) this gives dressage riders the opportunity to design their own hat. I have one with a Crystal Fabric top and 255 crystals in the trim - maybe a bit bling for some, but we are finding that customers are mostly opting for sparkle on their hats! Samshield are continuing to develop their range to service this continuing demand for 'something different'.
Part patent
Where the horses' tack is concerned we are still noticing a real trend for part-patent leather bridles. A few years ago, where tack was concerned-the biggest story was full patent bridles. This year, 'part patent' is all the rage, which is where the leather features patent inlay, which gives a classic elegant look. We have also seen a huge trend towards riders also combining 'part patent' with bling brow bands, bringing together the best of both worlds!
Patent leather is also still a huge story when it comes to riding boots and we are delighted to now stock Petrie and DeNiro. Some styles of the Petrie boots are narrower at the ankle, making them ideal for those who find dressage boots uncomfortable, where the leather creases. Something unique to Petrie is that offer a complete patent finish, from toe through to shaft, which really does add a glamorous finish to the rider's attire.
Ms World contest!
Saddlecloths have also been given a makeover with many featuring sparkle or detail, as well as those boasting your horses' breeding via a bold embroidered brand. The later is proving very popular amongst UK riders. The move towards more flashy turnout is also turning dressage horses into 'Ms World' contestants with much attention to detail on 'hair and make-up' from bespoke quarter markers through to designer plait styles!
We also stock men's competition jackets and breeches and I think that with so many top male riders in the style spotlight, brands are really up-ing their game. Top professional rider Damian Hallam (now our sponsored rider) was a customer for many years and men like the easy shopping service we offer as well as the quality of product we stock.
For women, we have gorgeous delicate pearl and crystal bun nets, crystal embellished belts, stunning semi-precious stone stock-pins and limited edition stocks, all of which can really add those special finishing touches to an outfit.
I personally cannot wait to see the world's finest dressage riders competing year and it won't be just the breathtaking dressage that I will be watching, at Dressage Deluxe we are always on the look out for trends and the Olympics will be no exception!!