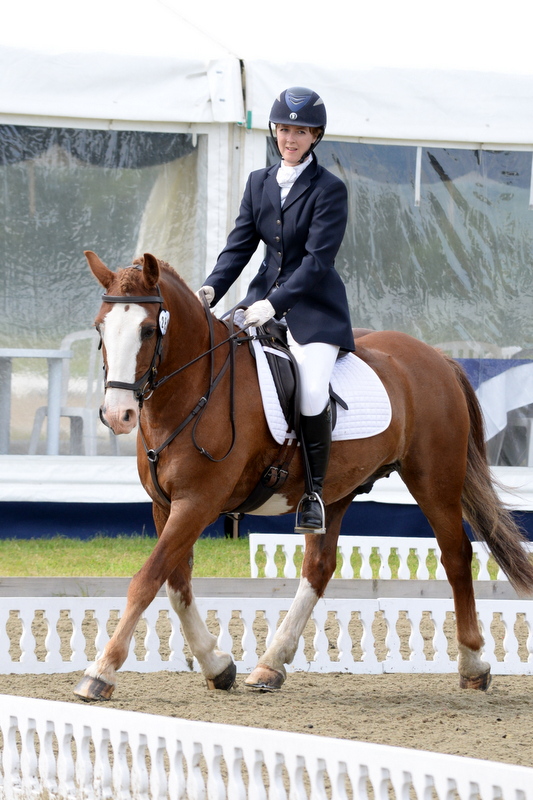 Back in February we wrote about Ruth's 2016 goal to qualify for the Summer Regional Championships. Well she did it and here's her show report!
I'm still totally gobsmacked that we qualified in three outings - things like this don't usually happen to combinations like me and my 14.2hh cob. Geoffrey isn't your average horse, he's short, a little rotund at times and ginger, but so I am so we're perfectly matched! His mane is more of a mohican style and his confirmation isn't really right for dressage.
Doubts
I was very humbled by our qualification, grateful to the fab qualifying shows and organisers and some lovely comments from judges on our potential. As I started to complete my entry for the Summer Regionals a few doubts crept in - what if he tenses through the whole thing or I forget to ride and people wonder what on earth we're doing there? But then, what if he doesn't and we have a great experience? There was only one way to find out!
Limiting beliefs
During preparation for the test I started to see it through Geoffrey's eyes. You see he doesn't know he's not built for dressage. He doesn't know that his confirmation is slightly against him at times making suppleness sometimes elusive and it difficult to push from behind, that his breeding isn't the same as the super horses we were about to meet. Nobody has told him he's not good enough so he isn't held back by any limiting beliefs.
I have to say the experience was the best equestrian experience I have ever had, in fact it's right up there with all other significant life changing moments. I did have to give myself a serious talking to in the warm up - there were some fantastic horses there and I started to feel a bit small and insignificant, but then I had to remind myself that it was me making me feel this way, as far as Geoffrey was concerned, he was out at a pony party having a great time!
Emotion
Our moment in the spotlight came and as we trotted around the outside of the arena I was so nervous I couldn't feel my legs or feet and Geoffrey tensed backing off so much his ears were nearly up my nose! Regardless we settled into it, ignoring the flowers, billboards and big TV screen and there were some really positive moments. During the test I thought about all the friends and family watching the live stream at home and that spurred me on - the supportive messages had been flowing all morning. As people applauded at the end of our test and the next rider (who went on to win the class) congratulated us I quite literally sobbed my heart out all theway back to the trailer. They were tears of joy caused by the emotion of it all! I'd achieved something great with my best friend, the one who believes in me and puts his heart into everything. I didn't think for one moment that we didn't deserve to be there.
It wasn't the best test we've ever ridden, we can do so much better, but that's not important here. What is important is the journey we've been through to get there, the process of having self doubt and turning that round into self belief by removing all of those limiting beliefs and appreciating the experience for what it really was - a Summer Regional Championship!
I think we all need to be a bit more like Geoffrey - don't tell yourself you can't do it, believe you can and behave like you've never been told otherwise. I guarantee it will change your whole outlook and make every experience a positive one.
#BeLikeGeoffrey
Dressage Anywhere runs monthly dressage competitions and training classes online. Choose from British Dressage, FEI, British Eventing, The Pony Club, Riding for the Disabled and now British Young Riders Dressage tests.