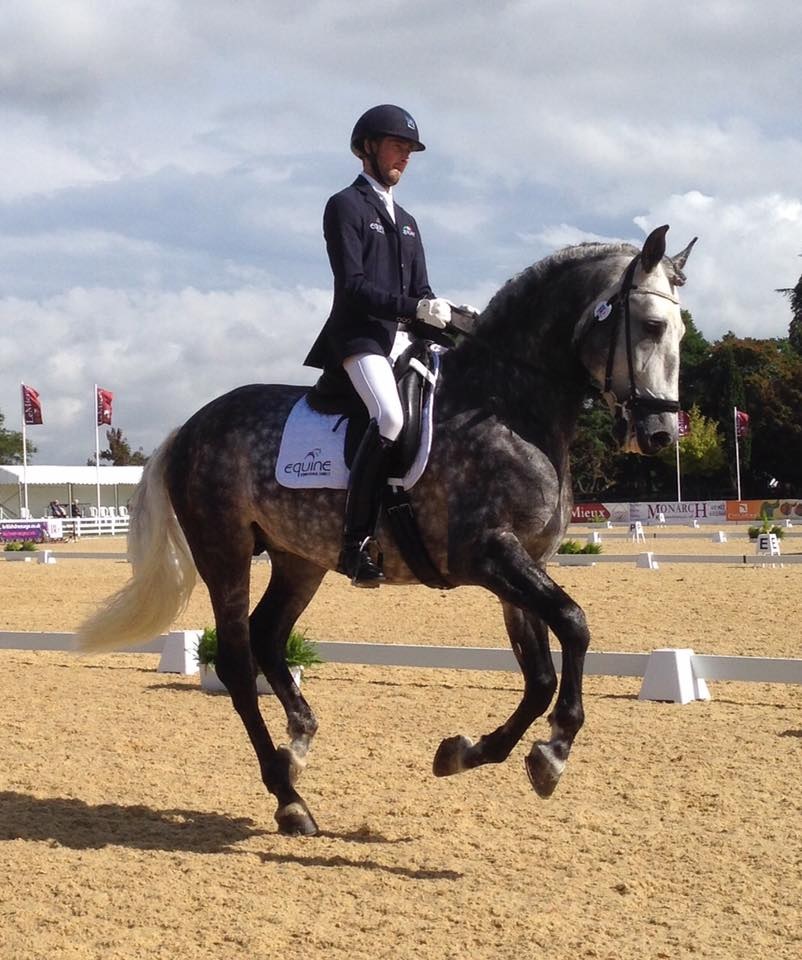 The team at Dressage Anywhere recently caught up with professional dressage rider Rob Waine to chat about making it in the world of dressage and what it's like to train with Olympic gold medallist Carl Hester.
TEN years can be a long time in the world of dressage, and nobody knows this better than Rob Waine, whose career has seen some incredible highlights working with international superstars.
Waine, 28, had humble beginnings working with trainer Sonia Webster at age 18. 'On my first test I remember going out thinking "I am absolutely incredible" - it turned out to be my worst test ever and I got 54 per cent!' he says. Ten years on and he has now worked with four different trainers, all of whom have helped him develop, before going it alone in 2012.
He credits international dressage trainer Webster for helping him 'fall in love' with dressage and helping him move on to work with Nicola McGivern, but it was one chance phone call in 2010 that would see him ultimately working with an Olympian.
Six years ago, before Charlotte Dujardin was winning Olympic medals, Carl Hester was searching for a stay at home rider. 'I had just started working with Anna Ross-Davies when I got a few missed calls. They turned out to be from Carl, who was offering me a job! It was a real "oh my God" moment and I had a very difficult decision to make as I had just started in a new role.
'He told me he didn't want another competition rider like Charlotte. He said he could see I was ambitious, and though it might not have been the job for me, he wanted to give me the first choice. I ultimately turned it down, and I don't regret that.'
Within the world of dressage, Waine says that being polite and hardworking, as well as building up a range of contacts, can be hugely beneficial. He's certainly not wrong, as he kept in touch with Carl and was offered the opportunity to train with him two years later.
So what is it like to work with esteemed MBE holder Carl Hester?
'He is one of the kindest people in the industry, and will do anything to help anyone get a leg up. He's always on hand to offer advice, and even offered me a spare tailcoat - you never say no to a tailcoat worn by an Olympian!'
It seems Waine's hardworking and outgoing nature have propelled his career even further, and led him to strike up a sponsorship deal with Equine Essentials Direct. 'It was certainly a case of right place, right time,' says Waine. 'I had been visiting their shop for some time and they were just starting to take off so they offered to sponsor me. They could have chosen somebody with a higher profile so I was very lucky. It just goes to show that, if you're polite to someone, you never know who might mention your name.'
Politeness is just one of the key factors for those starting out in the world of dressage, Waine advises. 'You have to prove you want it. I'd advise any new starters to work with a trainer they respect, and go the extra mile. If it's your day off and there's a show on, offer to go along and watch. You can learn so much from working with different people and different horses.'
When it comes to competition, Waine says he likes to arrive early to 'visualise' the arena. 'I like to look at the arena in which I'll be competing and mentally plan my route, where I'll be taking a turn etcetera. There's nothing worse than being unprepared.'
With 10 years of experience, Waine is keen to impart his wisdom to all riders, and will be offering a test riding clinic at Hammer and Harp Farm in Buckinghamshire on 12 November. 'It's a good chance to assess how you ride and where you could potentially pick up extra marks. After all - practice makes perfect.'
For more information on Rob Waine's Test Riding Clinic, visit www.robwainedressage.com.