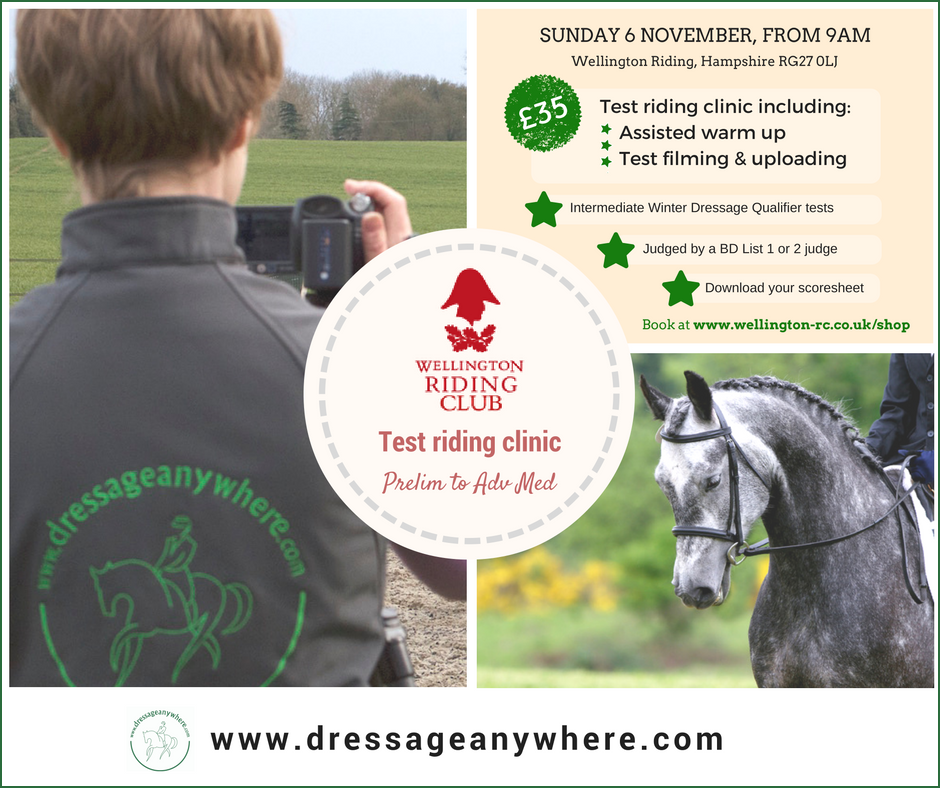 Practice your British Riding Clubs Intermediate Winter Dressage Qualifier test.
We're very excited to work with Wellington Riding Club to bring you a REALLY special clinic on Sunday 6 November.
The clinic will consist of an assisted warm up session with Mandy Chaffin, followed by a test filming session with Dressage Anywhere. We'll film and upload your test and enter it into the November Dressage Anywhere competition class (entry fee included in clinic cost).
You can chose any of the November short arena tests below from Prelim to Advanced Medium (which match those running at the December Intermediate Winter Dressage Qualifier).
Prelim 7

Novice 30

Elementary 49

Medium 71

Advanced Medium 90
There are only eight slots available (between 9.00 and 11.45am) so book quickly to avoid disappointment - this clinic is great value!
You don't need to wear competition clothing for the test filming - all the rules can be found online. All you need to do is select a test from the list above and learn it, then turn up!
Your test will be entered in the online Dressage Anywhere competition and you will be judged by a BD List 1 or 2 judge and receive a score sheet with comments to download, plus be eligible to win rosettes and prizes in the class.
Book the clinic via the Wellington Riding Club shop - the cost is £35 (+ booking fee) which includes your Dressage Anywhere competition entry.