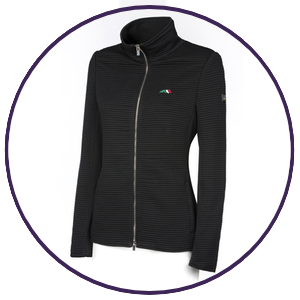 I know it's only November, but If you're anything like me your Christmas list is usually pulled together at the eleventh hour in the middle of December! To save you some time we've picked a few fab Dressage Deluxe products to get on your list now.
Fashion with function
The Equiline Renata Jacket is a super stylish quilted jacket styled in a soft shell breathable fabric.
Designed to compliment your curves, this jacket features a clever elastic rib detail in tone colour, which gently hugs without adding bulk to give a sleek silhouette.
Two Silver buttons on the cuff closure, two way full length zip, a bold coloured logo and Silver graphic embroidery to the centre of the back ensure that this jacket combines fashion with function. Available in blue & black, sizes XS - L, £162.
King of the boots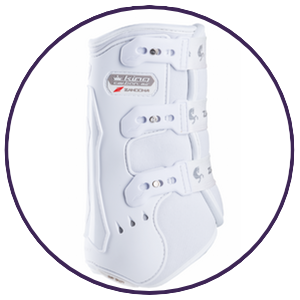 New to premium retailers Dressage Deluxe is Italian horse boot brand Zandona and the arrival of dressage specific protective and supportive boots: KING CARBON AIR.

Extensively researched, the final design offers outstanding tendon support, whilst protecting the horse's legs from knocks and bruises to the venerable fetlock and cannon area.
Featuring a revolutionary locking system, which allows perfect positioning and fit on the leg, these boots feature an external TPU structure with differentiated thickness and perforated Neoprene. Carbon Fibre elements are also present under the shell to thermally insulate the joints from any heat generated by external friction, while increasing the mechanical resistance to impacts. Further ventilation comes courtesy of six air-vents located over the fetlock.
A clever Flex-Zone, allows maximum freedom of movement to the limb and elastic straps with quick-release-tips have been included for a secure double locking closing system (horizontal/vertical). The Zandona King Carbon Air Dressage boots, ready for work! The boots are available in black or white, sizes M & L, £120 per pair.

Cool under pressure
No need to get hot under the collar in the competition arena this autumn, with this gorgeous jacket, new for this season. The Equiline Aria Women's Competition Jacket is a beautiful technical jacket styled in an X COOL EVO fabric, which not only gives you the ultimate in clothing climate control with its outstanding breathable properties but keeps true to traditional tailoring.
The flattering cut of the jacket also embraces the a clever 3D air mesh ensuring you are kept dry and comfortable in the saddle as well as ensuring the perfect fit without compromise in freedom of movement. Available in black or navy, sizes UK 8-16, £436. Also available in a tailcoat version Arialle RRP: £620.