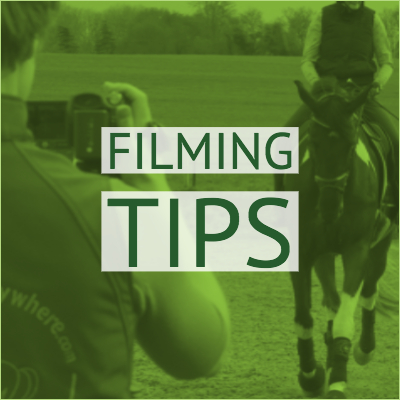 You don't need to be an expert to film a test. It's really easy and by following the tips below you'll have a perfect Dressage Anywhere test ready for judging.
Camera or device?
Technology has moved on a lot since we launched Dressage Anywhere in 2010! These days you can use a video camera, smartphone or tablet to film your test. If you're looking to buy a new video camera opt for something with a hard drive or SD card. It'll be much easier to transfer your video to your computer.
Videos filmed on smartphones or tablets are fine for judging but make sure the device has a zoom feature in the video app. If you've got a slightly older device use MoviePro (available from the App Store) which allows older devices to use a digital zoom.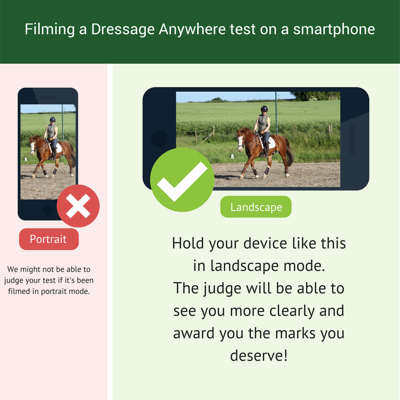 If you do film on a smartphone hold it in landscape mode so the judge can see everything clearly. Videos filmed in portrait mode, where the phone is held upright, are harder to judge and in extreme cases we might not be able to judge your test.
Filming
Film from the judge's position at C and if you can stand a little way back that's great. Don't worry too much if a fence or wall stops you from doing that. We don't all have Olympic sized arenas!
Start filming before the rider enters at A and finish as the rider leaves the arena at free walk on a long rein.
It's really tempting to 'watch' the test through the camera, but try to focus on keeping the horse and rider in the centre of the frame. The judge will be able to seem them clearly at all times, plus the shapes they're riding.
Zooming
You want to maximise your marks, right? We need to be able to see you clearly so you do need to use some zoom in your Dressage Anywhere tests, particularly when the rider is at the farthest end of the area. Make sure it's slow and gradual rather than sudden. The judge needs to be able to see the movement or shape clearly.
Light and dark
Filming at night can be tricky, but if your arena has floodlights at each corner and in the middle then we may well be able to see you clearly enough. If in doubt, take a sample video and send it by direct message to our Facebook page or a YouTube link to our e-mail address.
In contrast to that, filming in sunlight can also be a challenge - try to make sure the sun is behind you!
Have a look at our example video which shows the camera set back from the arena and gives you a good feel for the amount of zoom to use.
Don't forget to watch your video back before you upload it to make sure you're happy with the quality. With over 20 years of multimedia and IT experience, we're always on hand to advise and support. Get in touch if you need any help.