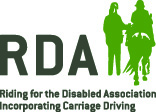 We got in touch with Sarah Hadley, National Championships, Dressage, Classification and Carriage Driving Co-ordinator at Riding for the Disabled for an update on the new grade for Para-Equestrian riders.
'The FEI has renamed the grades for Para-Equestrian riders. The new grades are from I to V and there will no longer be 'a' and 'b' within Grade I. Starting from this January, riders in Grade Ia will become Grade 1 (I), Grade Ib will become Grade 2 (II), Grade II will become Grade 3 (III) and so on.
'Riders in the RDA Grade V will become Grade 6 (VI) - though this may be renamed to avoid confusion with Visually Impaired classes.
'The change has no impact on the profiles of riders within these grades. Riders who were classified after 1 January 2015 should automatically receive an updated card through the post. Anyone classified before this date should contact Sarah Hadley at RDA National Office to have their card updated.'
All RDA tests have been updated on Dressage Anywhere and the new 2017 tests will be run in our competition classes from February.