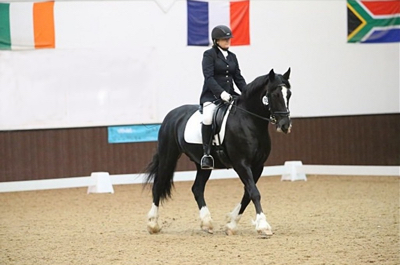 This is the second of our five part series on riders who have qualified for the Wendover Heights Equine CT Rider Winter Dressage Championships 2017 with Dressage Anywhere. We meet Erika Deakin and the lovely Warrangate Irish Affair who have qualified at Preliminary and Novice levels.
How did you hear about Chiltern and Thames Rider Magazine membership and how long have you been a member?
I heard about CTR many years ago whilst competing at local shows and have been a member on and off for at least 10 years with my current horse and earlier with my previous horse.
Have you ridden at a CTR Dressage Championships before?
I competed in the CTR Summer Dressage Championships in October 2015, we rode two tests and placed 2nd in the Novice class and 4th in the Novice Freestyle to Music. We also took part in the CTR Showing Championships in September 2015 and came 2nd in both Ridden Veteran and In Hand Classes. We've also qualified for and competed at BD Petplan Area Festivals at Novice Level in 2015 and 2016 and qualified and competed at BD Regional Winter Championships Novice Freestyle to Music in 2016.
How did you hear about Dressage Anywhere?
I heard about Dressage Anywhere via social media.
Tell us a bit about your horse
My horse is Warrengate Irish Affair (known as Booty at home because he has four white socks). He is a Welsh Section D Gelding and we currently compete at Prelim and Novice levels. He is 18 years young, loves life and can be rather sharp at times to keep me on my toes!!! He is a wonderful horse and friend in every way, kind and willing, and very loving. We have been in partnership for 10 years.
It is important to me that he has a varied and interesting life so I ensure that he trains in all disciplines as he enjoys his jumping and we compete in dressage and showing.
What are your goals for 2017?
My goals for 2017 are firstly to stay fit and healthy and as a bonus, try to qualify for CTR Showing Championships, BD Area Festivals and Dressage to Music Championships and Dressage Anywhere leagues.
Our challenges are trying to keep up with the increasingly high level of competition and standards, especially as neither of us have youth on our sides!!!!!
Tell us something we might not know about you
In my very rare spare time, I enjoy painting, bird watching & walking.