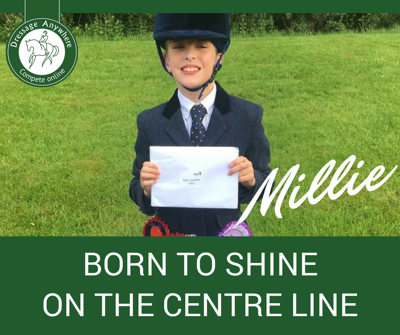 In this first part of our new series, Born to Shine on the Centre Line featuring Dressage Anywhere riders, we meet Millie from Stirling in Scotland.
Millie has just competed in the RDA Online Dressage Championships and was placed second to win a silver medal!
How long have you been riding?
I've been riding for three years.
Tell us an interesting fact about yourself!
I live for horse riding. I would ride every day if I could but I am just 10 years old and have to fit in school around my riding.
Tell us about your horse
Ozzy is a seven year old skewbald cob and we've been a partnership for nine months. As well as competing in dressage Ozzy also does carriage driving. There aren't many ponies that can claim that! He will be competing at Hartpury in both dressage AND carriage driving.
What do you hope to achieve in 2017?
Qualifying for Hartpury was the main achievement and getting a silver medal in Dressage Anywhere were massive achievements. I will do my best at the championships at Hartpury.
What's your biggest challenge?
Remembering the dressage routines with NO instructions being called out by my coach.
What's your biggest acheivement to date?
First place in Dressage Anywhere. Being named Scottish RDA dressage champion in October and qualifying for Hartpury in July 2017.
How did you first hear about competing with Dressage Anywhere?
Through other riders at RDA events.
What's your favourite thing about competing with us?
You can ride from your own school at a time that suits you and so there is less pressure.
If you've placed in one of our competitions and would like to share your story, get in touch at info@dressageanywhere.com.