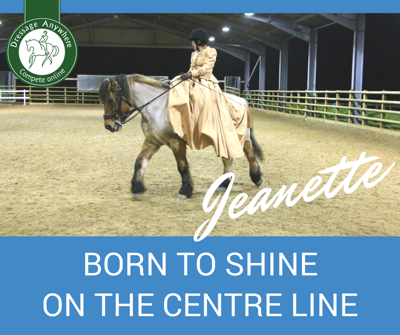 In the next part of our series, Born to Shine on the Centre Line, we meet Jeanette Dixon from Knustford in Cheshire.
How long have you been riding?
I've been riding for over 30 years. I currently ride at Intro level and Riding for the Disabled classes.
Tell us more about your horse
Nashend Linkwood and I have been a partnership for 14 years, he's 24 years old and a golden dun Highland. If I go on holiday without telling him he turns his back on me and ignores me when I get home!
What do you hope to achieve in 2017?
I hope to compete when I can.
What's your biggest challenge?
Keeping going! I have a fatigue problem but still want to do it all myself
What's your biggest achievement to date?
Becoming a UKCC level 2 coach and receiving an award from HRH Princess Anne for services to Riding for the Disabled.
How did you first hear about competing with Dressage Anywhere?
I found out about Dressage Anywhere on the Internet, it was about the time Dressage Anywhere launched RDA competition classes, so many years ago!
What's your favourite thing about competing with Dressage Anywhere?
Not having to wear show gear and not having to travel. Being able to video when I feel up to it is a great help.
If you've placed in one of our competitions and would like to share your story, get in touch at info@dressageanywhere.com.