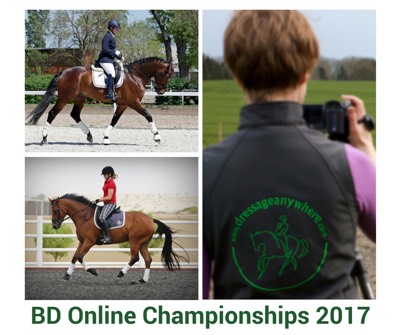 Qualify for the British Dressage Online Championships, hosted by Dressage Anywhere!
We're slightly later than normal in announcing this, but IT's BACK for 2017!
Between now and 30 September, achieve two scores of 62% or above to be in with a chance to qualify for our November Online Championship show. What's more, we've backdated the qualifying period to 1 May, so if you've already achieved a qualifying score, we'll be in touch to let you know. Remember, you can check your results on your my Dressage Anywhere page at any time.
The Championship classes will be run at Intro, Prelim, Novice, Elementary and Medium levels and your two qualifying scores must be at the same level. Riders with the highest combined percentage of two qualifying scores will be invited to take part in the Online Championship Show.
Prizes
We've got some exciting prizes lined for all Championship classes:
1st place BD Club Membership and a 12 month magazine subscription
2nd place Full set of audio tests and a BD bobble hat
3rd place Travel mug and fleece headband, plus two class tickets for affiliated competition.
Qualification is through our regular monthly schedule, click here to see more and get planning!
This is the last year our Online Championships will run in this format, standby for some very exciting news about next year!