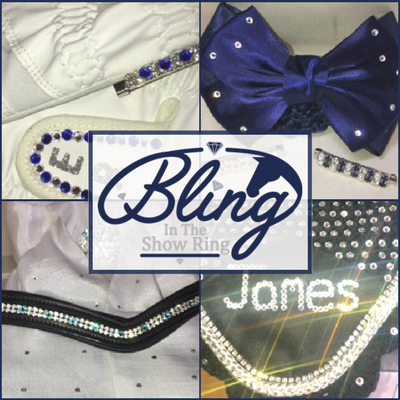 Welcome Bling in the Show Ring, our August Introductory class sponsor!
Our first to third placed riders will each receive a voucher to use at Bling in the Show Ring.
Creating bespoke and original products, Bling in the Show Ring started completely by accident as Jennie Atkinson explains, 'I made my daughter a fly veil as I wanted something that stood out and was pure quality and made with the very best crystals. I researched Swarovski crystals and absolutely loved the quality. I decided to add these to a veil alongside a hand sewn crystal trim. When my daughter took her pony out she had a few queries from other like minded riders and owners asking her where she brought her veil from ... and this is how I started!'
The range is made up of fly veils, tie downs, stocks, competition gloves, stock pins, hair accessories and bridle number holders. Earrings to compliment and beautiful browbands are all made using genuine Swarovski crystals.
This is a unique service where existing veils and gloves can also be enhanced. All items are made to order and hand sewn with every crystal individually applied by hand. Customers also receive videos of their complete orders to guarantee 100% customer satisfaction.
To find out more about Bling in the Show Ring or to place an order have a look at their Facebook page and website.
To enter the August competition, see the schedule here.