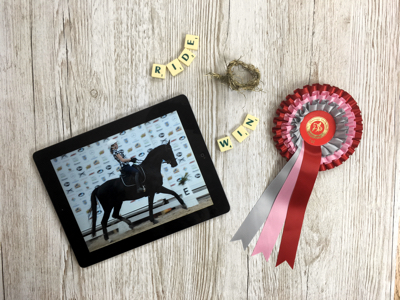 In the next part of our series, Born to Shine on the Centre Line, we meet Monica Kinnunen from Helsinki in Finland who has been competing with us since 2016.
How long have you been riding?
I have been riding for 21 years.
Tell us an interesting fact about yourself!
Before starting regular riding lessons, at the age of 11, I genuinely believed that you were supposed ride canter like they did in old western movies. By waving your hands wildly towards a horses head. And this is how I rode on my very first riding camp.
Tell us more about your horse
Rhodonia is a black Finnish warmblood mare (Sir Donnerhall I x Rohdiamant x Der Clou) and I bought her as a two year old filly, directly from my trainer. She is the supreme queen of our 40 horse dressage stable. All the stable workers are her servants and she should be pampered 24/7 (unless otherwise requested by her). Super sweet and smart mare that can though appear quite stern, unless you really know her.
What do you hope to achieve in 2017?
If all goes according to plan, trying to push towards Elementary at the end of this year. But lots to do before this. Rhodonia is currently training at FEI 6 year old level (corresponding to BD Advanced Medium perhaps) with our trainer, aiming to the FWB Breeder's Prize trophy competition in a few months.
What's your biggest challenge?
At this moment, developing a steadier seat to balance canter better and to be able to start working towards collection for simple changes etc.
What's your biggest achievement to date?
Achieving last winter a better understanding of a rider's seat mechanics, which is (of course) still a work in progress, and will most likely always be this.
How did you first hear about competing with Dressage Anywhere?
I was looking for options to take part in regular competitions, wanting to be able to ride tests at home (originally with my older stallion) to get feedback on those and to spice up the everyday training. Googled away!
What's your favourite thing about competing with Dressage Anywhere?
Getting feedback from tests 'as they go in', enabling to have the ridden test fresh in the memory, and even having the possibility to ride the test again for the judge (if the feeling is that there could be parts to improve upon).
If you've placed in one of our competitions and would like to share your story, get in touch at info@dressageanywhere.com.