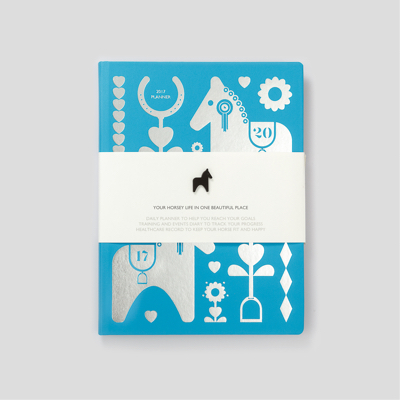 Leroy and Bongo planners encourage riders to set riding and training goals, track their progress and record their results.
With simply laid out sections for horse information, healthcare planning, training and events, results, weight and feeding, contacts, weekly goals and daily 'to do' lists, riders can keep their entire 'horsey life' in one beautiful place.
The Planners are hard backed and available in four colours: aqua, grey, pink and snow. They also include two ribbons to help riders instantly find the right page!
Eventers, show jumpers, dressage riders, showing jockeys, Pony Clubbers, instructors, ROR and pleasure riders are all using Leroy and Bongo Planners to organise their horsey lives and help them achieve their goals.
We love these planners and there are three to give away to our 1st to 3rd placed October Novice riders! Enter the October competition here, entries close 31 October.