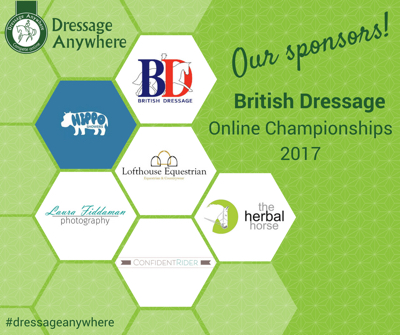 The invites have been sent, the schedule is live, the most gorgeous rosettes have arrived! It's time for the British Dressage Online Championship Show 2017!
We're delighted to announce this year's Championship Show sponsors:
Look out for more news from our sponsors including exclusive discounts and offers on our Gift Guide Page.
The Online Championship Show runs until 30 November 2017 and you can upload your championship test entry at any time before then.
Prizes
We've got some exciting prizes lined for all Championship classes:
1st place BD Club Membership and a 12 month magazine subscription

2nd place Full set of audio tests and a BD bobble hat

3rd place Travel mug and fleece headband, plus two class tickets for affiliated competition.
This is the last year our Online Championships will run in this format, standby for some very exciting news about next year!