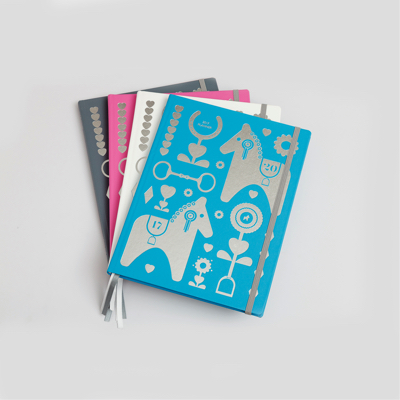 Dressage Anywhere regular, Tinky Morris was the lucky winner of last month's competition to win and review a Leroy and Bongo 2018 Planner. Here's what she had to say.
I was very lucky to win a Leroy and Bongo planner through Dressage Anywhere, and can't wait to start using in next year with Snow, Rayne and Flora! I predominately event and am a member of Grove Hunt Pony Club, and use Dressage Anywhere to aid my Dressage training - which is not my forte!
Snow is a 16hh 10 year old bay Oldenburg, who I have had for about 18 months now. He came 2nd in the 2016 Rider League and was a part of the winning Team Challenge last year. We have just stepped up to Elementary level, qualifying for this year's championships. Our biggest eventing achievement this year was coming 2nd in the Horse and Hound Grassroots Eventing Championships in May, finishing on his dressage score of 25.5. We are competing at BE100 and plan to continue this in 2018, so can't wait to start tracking our progress using the planner next year! Hopefully we will get a few more rosettes as a result!
Rayne and Flora are yet to make their Dressage Anywhere debuts (although I'm sure they will make an appearance in 2018!). Rayne is a 10 year old part bred bay New Forest owned by the lovely Becky Smith, who has let me play whilst she is pregnant! She is currently working at Prelim Level and starting some Novice movements. We are aiming for BE100 next year. Flora is a three year old Thoroughbred by Chilli Morning, owned by the fantastic Richard Adams. She is also yet to make her Dressage Anywhere Debut, but has taken to the boards like a duck to water, so hopefully will feature in some tests next year.
My point is, all the horses are at different levels and stages of their progress, yet the planner is suitable for all. It's specific enough to keep you on track with your training, goals and achievements, yet flexible enough to make it your own and adapt it to suit your horse. I can't wait to track my own progress getting back into the swing of things after breaking my collarbone in October, as well as tracking the progress of the ponies.
The planner is of great quality, and is so luxurious - it's making me want to go out competing just so I can write in it! The week by week planner will be ace for tracking the small progressions, as sometimes it can be a little overwhelming trying to reach a big goal without any direction of how to get there. It also has month view pages, so it can be easy to track training and competition progress all on one page. I think this is a great idea as it is simplified and easy to compare. It will also be a great tool to analyse progress effortlessly when concentration is lacking on a tired journey home in the horsebox!
It is also practical as the planner has healthcare and emergency contact pages, which would be great for someone who cannot always reach their horses, or is having to leave their horses in the care of others. I would definitely feel all the contacts would be there should there be an issue (although let's hope they're not needed!).
I would 100% recommend the Leroy and Bongo planner to those looking for an easy, simple and quick way to monitor their training and progress with their horses, and am definitely going to be getting a few more for Christmas gifts this year. A superb quality, indulgent yet affordable gift for horsey friends!
The Leroy and Bongo Planner is priced at £20.00 and available from www.leroyandbongo.com.