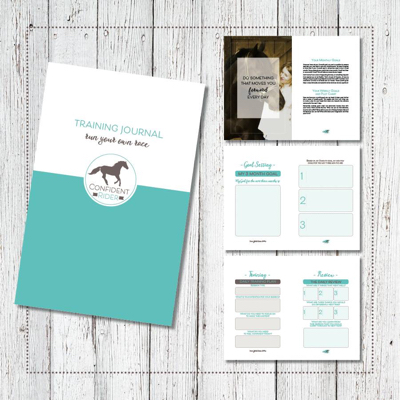 It's day 6 of the 8 Days of Dressage Anywhere!
What's today's prize?
Today's prize is a copy of the fabulous new Training Journal from Confident Rider. The training journal includes a three month goal setting plan and is all about setting goals and intentions for you and your horse that really work for you. The step by step processes really help in creating monthly training plans that feedback into your weekly and daily work with your horse.
Find out more about Confident Rider
Jane at Confident Rider is an equestrian mental skills coach who can help increase your mental strength to get the most out of your riding. Follow her Facebook and Instagram pages for inspirational quotes and informative blogs about dealing with anxiety in the saddle and celebrating the good stuff!
If you can't wait to see who wins this copy, order your own copy here.
Win a copy of this training journal
It's really easy to enter the competition, just go to our Facebook Page and look for the video pinned to the top. Make sure you watch the video before midnight as we'll pick a random winner first thing tomorrow morning, 29 January!
Good luck!