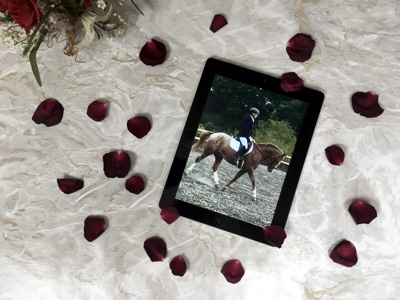 Our latest Born to Shine on the Centre Line feature is all about Vanessa Palmer, who heard about us through the RDA and has been riding with us for many years.
When did you start riding?
I used to hack as a young girl but technically I've only been riding in dressage for the last few years.
Tell us an interesting fact about yourself
I only started competing after having a stroke.
Tell us a bit more about your horse
Drift is a 12 year old chestnut New Forest x quarter horse and I bought him wild from the New Forest sales aged about 18 months. My son broke him in but then he wanted to compete in show jumping so Drift went to some friends on the same yard. We moved away eventually - my son has progressed in the dressage world, now a national and international dressage rider! At a fairly young age, I had a stroke but the horse world helped my enormously. I tried to rider my daughter's handsome boy but he was too forward for me and I had a few accidents.
I heard that Drift was with different owners and 14 months ago I saw him advertised on Facebook. We weren't really sure if he was suitable for a disabled rider so my daughter and others rode him and then I tried and he went like a dream. He has had to get used to my disabled aids - I don't have stirrup irons so never rise and my reins have loops so I ride with my thumb. We still have an odd chestnut moment, but he stands like a dream at the block for me. We had to learn dressage together and there have been moments when I thought I couldn't do it. But I picked myself back up and we have found our way together - learning how to ride 10 metre circles, ride a straight centre line etc. I walk with a stick and have no feeling in the other hand, but it's as if he knows when I lead him. He has given me life again.
He's a bit of a character and likes to pull the hood off my coat and loves drinking from the hose!
What level do you compete at?
RDA Grade 2 or BD Introductory.
What do you want to achieve in 2018?
I'd like to ride in a para team and at freestyle to music.
What's your favourite thing about competing with Dressage Anywhere?
Being able to compete at home.
If you'd like to feature in our Born to Shine on the Centre Line series, get in touch.