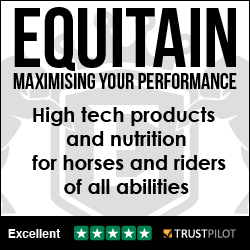 How excited are we to welcome Equitain as sponsor of our March Novice class?!
Equitain is the on site store at Kingswood Equestrian Centre - a venue established for nearly 30 years. Kingswood EC is a well respected and award winning venue in South Staffordshire, holding shows and events throughout the year.
Equitain work with the world's leading equestrian companies, supplying designer, high technology equipment for horse and rider. Through association with brands such as De Niro, Equiline, Samshield, Cavallo and Harcour they are able to provide riders with the best equipment possible. Equitain also specialise in optimising your equine's performance through their preferred status as suppliers of the world's best nutritional products by Cavalor and through the supply of saddlery and tack from Bombers Bits, Sprenger, Fairfax and Amerigo.
Customer satisfaction is the centre of Equitain and for this reason they are the highest ranked UK specialist dressage supplier on TrustPilot -ranking 5* Excellent.
Equitain on Facebook
Equitain on Instagram
Equitain on Twitter
View our schedule to enter March's Novice competition and win £20, £18 or £16 Equitain vouchers.