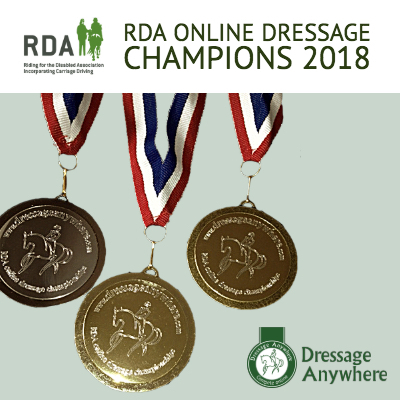 Congratulations to everyone who took part in the RDA Online Dressage Championships 2018!
Between August 2018 and March 2018 riders from across country competed monthly to qualify for the fifth RDA Online Dressage Championships. The Online Championship Show took place during May with a record number of riders taking part at Intro and Grades 1, 2, 3, 4 and 5.
We were absolutely delighted to have the Championships classes judged by Sue Petty FEI 3* and BD List 1 judge and Para FEI 5* and BD List 1 judge, Sarah Leitch.
Comments From the Judges
Sue Petty commented that 'the standard of riding and quality of training has improved considerably. Riders are accurate and use the arena well setting up the movements with improved preparation. Where some marks were lost it was through riders allowing horses to cut the corners, falling in and riding poor shaped circles.' Sue made special mention of Matt Dalley and Billy Smith. 'Matt rode an active test allowing his horse to go freely forward but keeping balance through transitions and he rode a very good halt over the centre line. Billy also rode an accurate test showing good feel and well ridden movements.'
Sarah Leitch commented that 'the RDA Online Dressage Championship was a delight to be able to judge the promising partnerships and tests. Hopefully these riders will now be encouraged to compete in BD Para competitions. Riders who deserve a special mention are Susan Wintour with Lambrusco in the Grade 1 scoring a fantastic 77%. The Grade 2 class featured three riders over 70%: Jessica and Criminal Girl, Lizzie Bennet and Rolo and Vanessa Palmer and Paris. In the Grade 3 class Oliver Peace riding Bailey scored close to 70%.'
2018 Results
Placing
Rider
Horse
RDA Group

Walk and Trot

1st

Billy Smith

Joe

Wakefield RDA

2nd

Oliver Peace

Bailey

High Hopes RDA

3rd

Eve

Joe

Wakefied RDA

Grade 1

1st

Susan Wintour

Lambrusco

South Bucks RDA

2nd

Lesley Sayers

Harry XL

Ride2Achive RDA

3rd

Caroline Hall

Zeus

Friends of Landlords RDA

Grade 2

1st

Jessica

Criminal Girl

South Bucks RDA

2nd

Lizzie Bennet

Rolo

Cambs College RDA

3rd

Vanessa Palmer

Paris

Broadlands Hampshire RDA

Grade 3

1st

Oliver Peace

Bailey

High Hopes RDA

2nd

Jeanette Dixon

Nashend Linkwood

Mid Cheshire RDA

3rd

Elaine Hughes

Harry Potter

Mid Cheshire RDA

Grade 4

1st

Matthew Dalley

Wimbledon II

Scropton RDA

2nd

Oliver Peace

Bailey

High Hopes RDA

3rd

Mary Leigh

Conrad

Mid Cheshire RDA

Grade 5

1st

Kelly Lessel

Woodlands Jasper

Ride2Achieve

2nd

Judith Taylor

Supreme Galaxy

Gaddesden Place RDA Centre
See our scoreboard for full results.
All medal winners will be invited to receive their medals and rosettes at the RDA National Championships, due to be held at Hartpury, Gloucestershire in the prize giving scheduled for 15.30 on Sunday 15 July.
We love working with the RDA to run this series, now moving into its sixth year with qualifiers opening in August 2018. Keep your eye on the schedule for more details and get in touch if you'd like to know more.