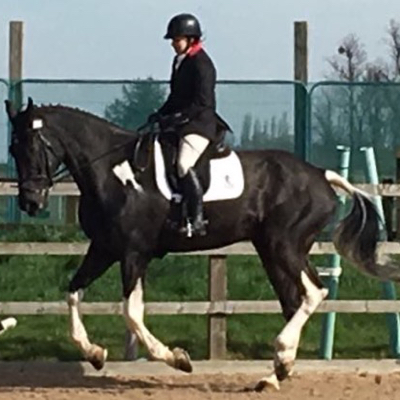 In November 2018, riders from around the world competed in the BD Online Associated Championships. Helen from Odiham in Hampshire placed 2nd in the Elementary class and answers our quick fire questions below.
When and why did you start riding?
I started at just four years old, I loved horses from a very early age.
Tell us an interesting fact about yourself!
I have given up riding twice and come back to it. At one point I didn't compete for 15 years!
Tell us a bit more about your horse
Across the Road (Domino to his friends) is a 14 year old piebald Irish Sports horse.
Where did you find each other and how long have you been a partnership?
I used to drive past his field and I just fell in love with him. When I heard through a friend that he was for sale I jumped at the chance. He is big at nearly 19 hands, we have been together 4 years. He is such a good boy! When I first had him he did not understand anything but straight lines, he used to jump out of the school on a regular basis, because we could not turn.
What do you want to achieve in 2019?
I would love to get to the Pet Plan final and ride a test I'm proud of.
What's your biggest challenge?
Getting such a big horse to work over his back.
What's your biggest achievement to date?
Scoring an 8 in a Medium training test!
How did you first hear about competing with Dressage Anywhere?
It was three years ago at the yard I keep my horse.
What's your favourite thing about competing with Dressage Anywhere?
Great feedback and by using the training classes it helps you to improve - the feedback is invaluable.