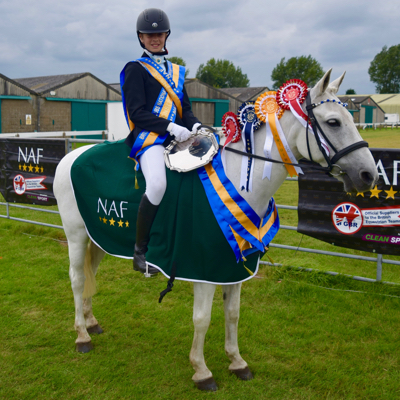 Back in 2015, Gracie Tyte won our The Pony Club Online Dressage Championships with her lovely pony Danny. Just recently and purely by chance I came across an Instagram profile: pony_nuts and instantly recognised the name! The young rider behind the account was the same Gracie and Danny was all over her feed, along with some other lovely ponies. So we got in touch to find out what's she been up to since, over to you Gracie!
How did you get into horses?
I am very lucky because my mum has always loved horses so I have been surrounded by horses since a young age. The first memory I have is falling asleep on my mum's old horse Inky whilst brushing her. Ever since then I have loved them and after agreeing with my mum that I would get up every day and feed her horse to prove my commitment she got me my first proper pony Gyppo, a lovely old coloured cob.
Tell us about Danny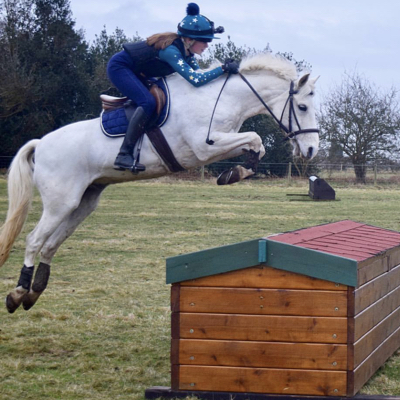 Danny is my 19 year old 13.2hh Connemara cross gelding who I have had for 4 and a half years. Before I got him, I had fallen off another pony and broken my wrist and understandably was quite nervous. My Mum put up a Wanted Ad and we were contacted by a lovely lady who told us that Dan was quite a cheeky soul but her son had well truly out grown him and she wanted Dan to go out and have some fun. We later found out that Dan had been an unwanted foal, bred as part of a research project testing pregnancy levels in mares and been saved by one of the vet nurses for £10. Since winning the Dressage Anywhere Championships in 2015 Danny and I have competed nationally for my school team, riding club team, and pony club team all around the country and have been placed in the top ten at all of the six Championships we qualified for. Dan is now out on loan to a lovely little girl and thoroughly enjoying a new lease of life and having lots of fun!
Tell us more about Prince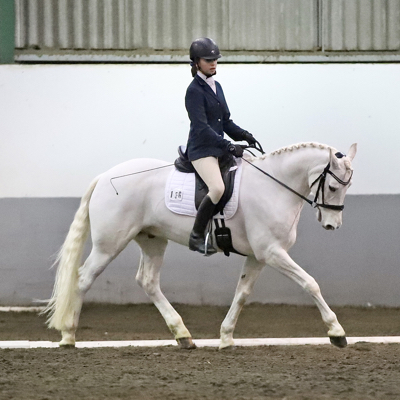 I have had Prince for one year and he is another grey (why oh why!) 14.2hh 10 year old Connemara gelding and we found him through social media contacts and had to travel to Cheshire to see him. Last year my greatest achievement was qualifying for the BE90 Regional Finals and going double clear in our first BE100. Prince was quite shy when we got him but he has really blossomed and just loves attention and is a real comedian - his favourite thing to do is to give kisses, and lots of them!
Tell us more about the new horses you've added to your yard recently
I love the Connemara breed and since having Dan and Prince I have wanted to bring on a Connie youngster. After I saved up enough money myself we took a trip to Ireland at the beginning of 2019 and viewed over a dozen Connemaras of all different shapes and sizes. I immediately fell in love with Johnny, a rising 4 14.2hh gelding - another grey, but at least he is quite dark at the moment! There was something about him that really made him stand out.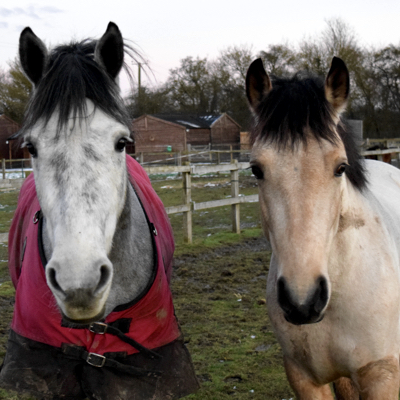 It was a really good experience for me to talk to all the breeders and research breeding lines, organize all the viewings and finally make an offer on my very own project. I am hoping to produce him as a grassroots eventer and have lots of fun with him along the way. And here comes the funny part... Rocco! Whilst we were in Ireland, at one of the breeders this cheeky little dun face was sticking out of a stable door as we walked into the yard, and immediately my Mum fell in love. However he was two. And a colt. So we carried on looking... but my Mum couldn't stop thinking about him and my Dad, bless him, agreed to buy him for her and I will ride him for her when he is old enough to be backed and ridden.
Name a horse you'd most like ride or own and why
I really would have loved to ride Stroller the 14.2hh Irish Pony that show jumped at the Olympics, bringing home an individual silver medal, and won the Hickstead Derby. He was a small pony with a big heart, much like my Dan!
Your proudest moment of 2018?
My proudest moment of 2018 was completing my first BE105 on Prince at the end of the season over the biggest challenging cross country course we have both ever done, and even going clear. I will never forget the feeling of flying the last fence knowing that only six months before I had only just done my first BE90.
What are your aims and aspirations for this year and beyond?
This year I would to like build on our experiences from last year and have some serious fun and hopefully some success at BE100 and u18 classes. My main aim is of course to keep Prince and I happy, safe and confident. I would also like to aim to maybe compete Johnny at a BE80 by the end of the season.
How do you prepare for a dressage test or event? Have you got any top tips?
When preparing for a dressage test I break the test down into smaller chunks and make sure not to ride the whole test over and over again as Prince thinks he is being clever by telling me what movement is coming next... usually far too early!!! My top tip has to be to SMILE - even if you know that's the worst test you have ever done; the judge doesn't know that!
What's your favourite venue to compete at and why?
I really loved competing at Addington Equestrian Centre in Buckingham for the NSEA National Championships where Dan and I were a member of the English Nations Cup Showjumping Team - the venue and the atmosphere was amazing!
How do you balance everything - school, social media, horses and competing?
It is a real balancing act to manage school, ponies, social media, friends and family! School always comes first, along with making sure the ponies are cared for. Social media is just a hobby - luckily it's very portable and fits around everything else, although it can feel like a proper job sometimes!
We saw you recently reached 100k followers on Instagram, how did that feel?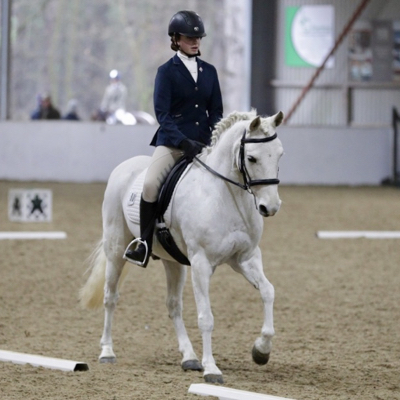 Hitting 100k was pretty surreal - after all I am a very normal 15 year old girl with a very normal life and ponies and yet over 100,000 people watch my journey. Having my account has helped me a lot with my riding, helped me make new friends and contacts and has taught me a lot about social media marketing. It is also a lot of responsibility and I have to deal with some sensitive and tricky issues at times but this has helped me grow as a person too. I am very grateful for all the support and opportunities I have received from having @pony_nuts.
What would you say to someone just getting started with horses and social media?
ENJOY IT! Some people seem to get so stressed about the number of followers they have, about having the perfect position or horse or life and that is so unrealistic to keep putting the pressure on to be perfect. People actually like seeing the real side of equestrianism, not just the successes, but also the fails and the outtakes and the behind the scenes - I think that's why so many people follow @pony_nuts - because it makes them smile!
What horsey products or items could you not live without?
I definitely could not live without my DriRug - it's absolutely essential when you have grey ponies that need a lot of washing. I am also very lucky to be supported by some other great companies such as TredStep Ireland and Champion Hats - both whose products I trust in and always feel smart and comfortable wearing.