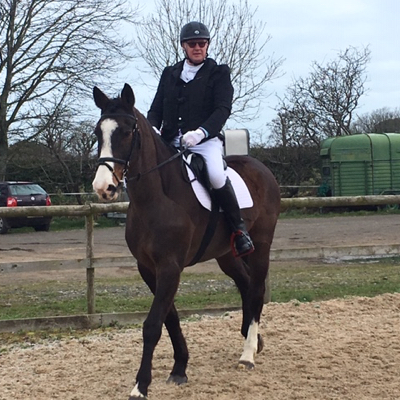 When Kevin from Jersey got in touch with us last month to find out more about Dressage Anywhere, we were only too happy to help. We had a long conversation on the phone about his wonderful horse, Lisco and then Kevin revealed he had had a very serious accident - we were so moved by his story we encouraged him to write it down to share with our members.
Kevin and Lisco
I started learning to ride in mid February 2016, two of my daughters paid for some initial lessons. They had ponies and horses, but I was chief groom and lorry driver, cleaner etc! Lessons once a week were not enough for me and over a three month period I was having three lessons per week, and by July/August 2016 venturing off the yard too with trainers and to the beach to do some work!
My eldest daughter, her trainer Penny Crutwell and Emily Renouf asked me to ride my now beautiful Lisco, a Selle Francais 16.3hh ex jumping horse who belonged to Emily. This all worked out and I have had him since January 2017.
I have hacked over 2,500 miles on him, over hills, had lessons and on the beach! Due to old sacroiliac problems I have had to strengthen his joints and hence the work. He improved amazingly and by April/May 2018 he was level and we started to work in the school and focus on dressage.
Increasing Scores
In January 2018, I started riding Ryker, an Irish draught horse 16.1/2 hh but chunky, in addition to Lisco with a view to dressage. He belonged to a friend of my eldest daughter. He was a naughty horse but I persevered and increased my dressage scores by 10% over less than five months. In late June 2018 I had scheduled to take him to a school where I had been training with Penny about a mile from his stables and complex. On the Thursday none of us could catch him, he was left in the box on the Friday, after backing up on me in his box and kicking out, I tacked him up and managed to mount outside!
The next thing, he threw me off in the yard which I do not remember! It has subsequently been ascertained that I got caught in the stirrups on the way out, smashed my head on the hard standing several times, dragged 50 metres, unconscious for two hours, on my own until found by the owner's father. My right shoulder, arm and hand took much of the impact too, my elbow the only place I bled. It was all recorded on my phone tracker and monitor, my heart beat and blood pressure marginally spiking when I became unconscious. My Gatehouse helmet and internal strength and fitness saved my life.
---
My whole life changed...I missed my horse Lisco greatly, not able to see him and my whole life was on hold
---
I was taken to hospital and remained there for 10/11 days, seven in HDU and I couldn't see, speak or walk for most of this time. I had sustained a brain injury in my cerebellum affecting vision and stability and had an extremely swollen right shoulder, arm and hand which I could not use. I have no recollection of the incident or being in hospital, the void was almost three weeks.
The result was very traumatic and after leaving hospital with no pathway, when I started to come round and start to see again although, mostly in quadruplicate vision and gross distortion, I made it my goal to get better and back to some normality.
Life Changing
My whole life change - I was unable to drive, on a mandatory 6/7 months before re assessment, not able to look at my iPhone or Macbook. I missed my horse Lisco greatly, not able to see him and my whole life was on hold.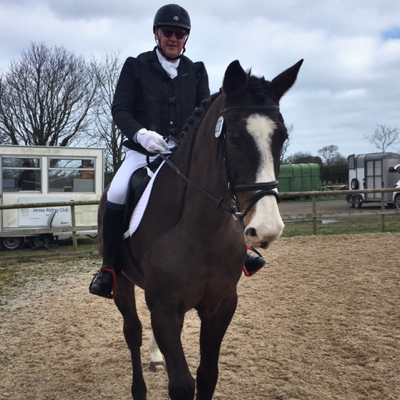 After five weeks I made it back to his stables and still wasn't able to see or stand properly. When I called him and went into his stable, he put his head on my shoulder and pulled me in and held me there for 10 mins, the owners at the stables said he had missed me so much. They were incredible looking after Lisco for me and have helped me greatly since. I had to bus it to the stables for over five months, but still managed to get there three to five times per week and walk from the bus stop about three quarters of a mile each way, which resulted in walking 25 miles per week and keeping fit.
I still could not see properly but compensated with my core strength. Hayley at my stables was also instrumental in helping me, her Father is Ops Manager at the Headway Brain Trust in Jersey, he provided me with a counsellor and they put me in touch with their Sacro Cranial Specialist. He has saved my life and helped my body self heal. Without him I would not be so far ahead of my recovery schedule and DNA replication of my injury.
Remaining Positive
I've found the key is to remain totally positive and focused on getting better, my specialist has told me I am lucky to be alive and I have done all I can to recover. I was very lucky, Emilia Crocker who is 19 and a lovely girl who I knew, having ridden her beautiful horse Ads a year previous, had been riding Lisco three times per week and looking after everything for me before she went back to university in September. My daughter also had been riding him and by mid November, my trainer Penny, my daughter and her husband, also riding Lisco, helped me back on and I have been training since. Three lessons per week with Penny who at one time helped train the British Paralympic team.
Penny has been wonderful and without her I would not be where I am now, she is a consummate professional and I have been blessed to have her expertise. Jan who owns the yard, Hayley and Natalie at the yard rode with me and helped me back. Both Hayley and Natalie have coached me in addition to my trainer.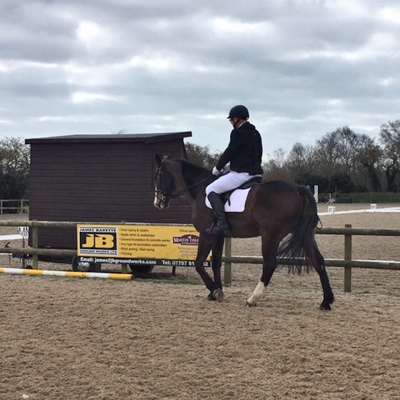 I started driving my car again in January and can now see as the legacy issues I had to deal with have subsided. I have made my way back and took part in two dressage competitions in March in Jersey, I've been to the beach on my own now and need to gain more strength - Lisco is a powerful horse!
Joining Dressage Anywhere has been a main focus, I rode my first test in April and am very pleased with the test and score. There's lots to do and we have few competitions in Jersey but the concept of online dressage is wonderful. I will be sending in my entries and videos each month, it's very encouraging.
Kevin And Lisco entered April's Veteran Horse Competition and came 5th!