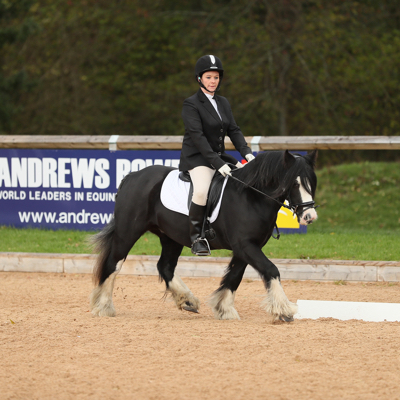 Caroline Burrow and Mimi from Hampshire placed 3rd in April's Introductory open class. They're shortly off to the Petplan Area Festival in June, so we caught up with Caroline to find out a bit more about the partnership.
How did you get into horses?
I was nine years old and always loved animals. I begged for lessons until my parents gave in.
Tell us an interesting fact about yourself!
I'm a full time teacher, mother to two humans and five horses lol!
Tell us a bit more about your horse
Mimi (Midget) is a six year old black cob. She was rescued at 1 year old by the RSPCA. I have trained her all myself. Started off doing online dressage for hints and tips and last year started affiliated dressage and now we're off to the Petplan Area Festival this June.
Have you got any interesting or funny stories about your horse?
She was called midget as she was only 9hh when I got her. She is now over 13hh so known as Mimi.
What level do you compete at?
Affiliated Prelim and Novice.
How do you prepare for a dressage test?
Practice and learn the test and watch other tests to get tips.
What horsey product or item could you not live without and why?
A diamonte browband so she always looks her best.
What are your goals for the future?
Get to the championships!
What's your biggest challenge?
Being a full time teacher with my own yard of five horses and two kids to entertain.
What's your biggest achievement to date?
Breaking her myself and getting to the Area Festivals.
What's your favourite thing about Dressage Anywhere?
It's the quick judging turnaround with scoresheets e-mailed within a short time of uploading, plus the experienced and great judges.
What would you say to someone just getting started in dressage?
Try Dressage Anywhere as it's a great starting point and a cheaper option to having lessons as the feedback is so great.